Oscars Party Menu and Recipes Featuring Gourmet Pizzas
Come Party With Me: Oscars — Menu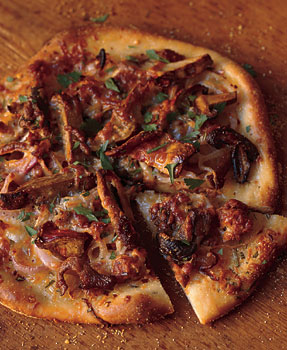 The Oscars are this Sunday and every year I like to invite friends over to watch the show with me. It's easy to get creative with an Oscars viewing menu — you could do modern movie foods (like truffled popcorn and goat cheese nachos) or a spread of upscale appetizers (delicious enough to feed the celebrities!). Then there's always Wolfgang Puck's recipes (he is the chef for the Oscars afterparty) or a meal inspired by one of the nominated movies.
While these are fun options, I've decided to take a tip from Puck and serve the signature dish he created in 1982, the gourmet pizza. A pizza menu is not only easy to prepare in advance, but it's also ideal for eating; no utensils required.
I'll be making three crispy, thin-crusted pies: sausage, red onion, and wild mushroom; herbed mascarpone, smoked salmon, and asparagus; and artichoke and fontina. To take a look at the recipes,
.
Sausage, Red Onion, and Wild Mushroom Pizza
From Bon Appétit
Ingredients
1 16-ounce ball purchased fresh pizza dough
2/3 cup finely grated Piave or Parmesan cheese
2 1/4 teaspoons finely chopped fresh rosemary, divided
1/2 teaspoon dried crushed red pepper
Coarse kosher salt
1 1/2 tablespoons olive oil, divided
2 1/2 hot Italian sausages, casings removed
1 small red onion, thinly sliced
7 ounces fresh wild mushrooms (such as stemmed shiitake, oyster, and chanterelle), thickly sliced
1 3/4 cups coarsely grated whole-milk mozzarella cheese (about 7 ounces), divided
Chopped fresh parsley (optional)
Directions
Position 1 rack in top third and 1 rack in bottom third of oven and preheat to 450°F. Lightly flour 2 baking sheets.
Place dough on work surface; let stand until room temperature, about 20 minutes. Divide dough in half. Press and stretch each piece out on lightly floured surface to 5-inch round.
Sprinkle each with 1/3 cup Piave cheese, 3/4 teaspoon rosemary, and 1/4 teaspoon crushed red pepper; sprinkle with coarse salt. Roll each piece of dough out to 10-inch round, pressing in seasonings. Transfer dough rounds to prepared baking sheets.
Heat 1 tablespoon oil in large nonstick skillet over medium-high heat. Add sausage. Sauté until brown, breaking into 1/2-inch pieces with back of spoon, about 5 minutes. Using slotted spoon, transfer sausage to bowl. Add onion to skillet. Sauté until crisp-tender, about 2 minutes; transfer to plate. Add remaining 1/2 tablespoon oil to skillet. Add mushrooms and remaining 3/4 teaspoon rosemary; sprinkle with salt and pepper. Sauté until brown, about 5 minutes.
Leaving 1/2-inch plain border, top each dough round with 3/4 cup mozzarella, then onion, sausage, and mushrooms.
Bake until crust bottoms are crisp and brown, reversing sheets after 10 minutes, about 20 minutes total. Using large spatula, transfer pizzas to work surface. Sprinkle each with 2 tablespoons mozzarella, then parsley, if desired.
Makes 2 pizzas.
Information
Category

Main Dishes, Pizza

Cuisine

Italian
Ingredients
About ¾ pound mascarpone cheese
2 tsp. lemon zest
1 tablespoon minced chives
Gray Salt
Freshly ground pepper
Extra-virgin olive oil for brushing
1 medium red onion, peeled and sliced thinly, soup style
1 bunch asparagus spears, blanched, shocked and cut on bias in 1" lengths
1 pound smoked salmon, thinly sliced
2 lbs pizza dough
All-purpose flour for dusting work surface
About ¼ cup capers, rinsed
Directions
Prepare the grill and let burn down to medium coals. You can also pre-heat a grill pan or electric griddle.
In a small mixing bowl combine the mascarpone with the lemon zest, chives, salt and pepper and mix to combine.
Divide the dough into 6 equal balls. Working on a surface free of flour, roll each ball under your palm. As it rolls, it will stick slightly to the surface, creating tension that helps form a tight, round ball. Dust the work surface lightly with flour. Pat each ball down lightly, dusting the tops with flour. Cover dough with a towel and let rise for about 15 minutes. With a rolling pin, roll out each ball into a circle 8 or 9 inches in diameter, and about 1/8 inch thick.
Have the grill ready at medium heat. Have the olive oil, mascarpone, asparagus, salmon, capers and onion ready and close by.
Brush each dough round with about 1 teaspoon of the olive oil. Place on the grill, oiled side up, and cook until browned on the underside, about 2 minutes. Turn and, working quickly, brush each round with another 1 teaspoon olive oil. Remove to a cutting board, and working quickly while still hot, spread each grilled dough with some of the mascarpone. Drape a few of the salmon slices over the mascarpone, scattering some of the asparagus, capers and red onion over the top. Drizzle with extra virgin olive oil and serve immediately.
Serves 6.
Information
Category

Main Dishes, Pizza

Cuisine

Italian
Ingredients
16 ounces frozen artichoke hearts, thawed and drained
1 cup plus 1 tablespoon olive oil
2 teaspoons fresh lemon juice
2 garlic cloves, smashed
2 thyme sprigs
2 rosemary sprigs
1 bay leaf
1 small dried red pepper
Salt
Cornmeal, for dusting
Two 8-ounce balls of store-bought pizza dough
2 1/2 cups coarsely grated imported Fontina cheese
Freshly ground pepper
Directions
In a medium bowl, combine the artichoke hearts with 1 cup of the olive oil, the lemon juice, garlic, thyme, rosemary, bay leaf and chile pepper. Season with salt. Cover and refrigerate the artichokes overnight or for up to 3 days.
Preheat the oven to 425°. Dust a work surface with cornmeal and roll out each piece of pizza dough to a 10-inch round. Transfer to baking sheets. Drizzle the rounds with the remaining 1 tablespoon of olive oil. Bake for about 8 minutes, until the dough looks dry and bubbles appear on the surface. Remove from the oven.
Chop the artichokes into bite-size pieces; drain them on paper towels. Sprinkle the Fontina over the pizzas; distribute the artichokes over the cheese. Season with salt and pepper; return the pizzas to the oven. Bake for about 10 minutes, until the edges are browned. Serve hot.
Makes two 10-inch pizzas.
Information
Category

Main Dishes, Pizza

Cuisine

Italian