Oscars Viewing Party Ideas With Cat Cora
Cat Cora Offers Up Oscars Party Tips and Details on Future Projects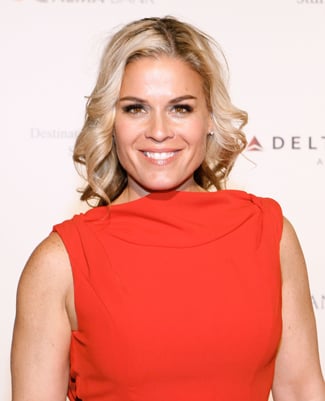 Nearly as big as the highly anticipated Oscars on Feb. 26 is Elton John's AIDS Foundation Oscars party, hosted annually by the musician and his husband, David Furnish.
Guests at this year's fête will be fed courtesy of Cat Cora, who'll be pulling out all the stops with an all-out global-inspired menu. I spoke to the Iron Chef about what she's making for this bash (and her tips for hosting your own Oscars viewing party at home!), as well as what's in the pipeline for her this year (hint: it involves several restaurant openings and a new show on Bravo!).
YumSugar: What's on the menu for this year's Oscars party?
Cat Cora: We're going to do a fantastic Italian salad — a tricolore, with arugula, some beautiful endive, and radicchio, composed with a pureed pistachio vinaigrette — just to start off nice and light. Then we're going to offer a baby tomato and bocconcini salad with a Bloody Mary vinaigrette, sesame-encrusted lamb meatballs, a filet tenderloin of beef, and a really good sea bass choice. We'll finish things off with a silky chocolate dessert or a pear and apple tartlet. It's going to be really over-the-top.
YS: Who are you most excited to run into?
Find out the answer — and more on Oscar-night party planning — when you keep reading.
CC: I'm definitely excited to meet Elton, who I've never met, and his husband, David. But I'm so focused on putting out amazing food that my mind hasn't really gone there yet!
YS: Tell me about the process of developing the menu.
CC: I chose specific dishes that are not only innovative, but new, fresh, healthy, and light. It's not going to be the same vegetable medley and the same pizza. All of the sides are stunning. I chose to present the dishes in a global way; the menu doesn't have to be Italian or French. I'm fluent in different cultures and cuisines and I like to bring that to the table. It's a really thought-out menu that's just going to be off the hook.
YS: If you were watching the Academy Awards at home with a bunch of friends, what would you suggest making?
CC: Some really fun cocktails. I have an ouzotini that I like to serve: it's vodka, ouzo, pineapple juice, pomegranate juice, and a squeeze of lime. Shake it, then serve it straight up like a martini. That always goes down really smooth! Definitely a really phenomenal champagne. Oh, and something like truffled Parmesan popcorn. It's the Oscars: you have to bring out something that's a little more decadent.
YS: Tell me about guest judging on Bravo's Top Chef.
CC: Even though I'm an Iron Chef [on Food Network], we've been able to make peace with that. I love working with Bravo, and the Magical Elves are really good at what they do. It's fun to be on the other end of judging and to give up-and-coming chefs good advice. That's how you learn.
YS: Speaking of Bravo, you're cohosting a new show, Around the World in 80 Plates, with Curtis Stone. What can you tell me about it?
CC: [Cohost] Curtis Stone and I were friends before we started the show. We're pretty tight. It was literally one of the best experiences I've had in TV. The show is going to be phenomenal. I can't say too much, but it's got all the elements.
YS: So do you still have time for your Iron Chef duties?
CC: I'm still an Iron Chef, still doing Iron Chef. Even if we take breaks, we're always an Iron Chef; we don't get kicked off or fired, unless we decide to leave on our own. I still hold my title.
YS: What's keeping you busy right now?
CC: We're opening more airport locations of Cat Cora's Kitchen. In Salt Lake City, our gourmet market is happening, as we speak. It'll open in about a week. I've got a Cat Cora Kitchen in Salt Lake City opening as well. We're opening another in February at the Atlanta airport, and a couple of other cities we haven't nailed down. Around the World in 80 Plates is launching in May, and I'm working on another food line that I can't talk about yet. We have a book in the works, too.