Other Uses For Kimchi in Cooking
Slaw and Order: How to Use Up a Jar of Kimchi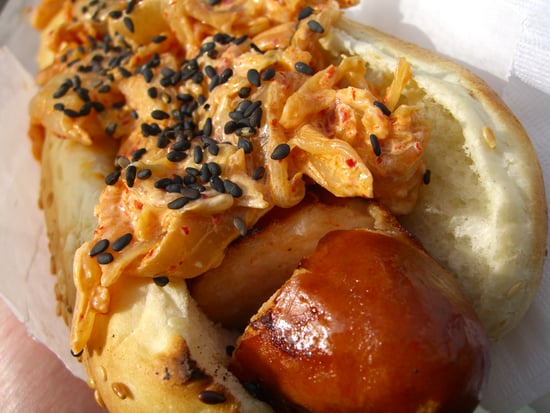 So you took the plunge and bought a jar of kimchi. It has paired nicely as a side dish beside rice and delicious Korean barbecue, but now that the honeymoon period is over, you're looking for what's next. While the pungent fermented cabbage will last several weeks tightly sealed in the fridge, it will eventually expire, and boy, you don't want to be around when it does! If you're in a pickle about how to use up your jar, we have many ideas, so just read on for this kimchi cornucopia!
Fried rice
Chopped kimchi and its fragrant juice make an amazing dressing for fried rice, and it can be prepared in 30 minutes or less!
Kimchi stew
Use your stinkiest kimchi in a rich stew with pork belly, onions, and diced potato.
Dumplings
Fold some up in a dumpling wrapper (with or without meat) for heavenly pickle pockets. They can be steamed, panfried, deep-fried, or dropped into soup.
Hot dogs and hamburgers
It isn't too different from sauerkraut, if you stop to think about it, so topping your dog or patty with some shredded kimchi is a great way to add flavor to an American favorite.
Quesadillas
Jump on the Mexi-Korean bandwagon and toss some chopped kimchi between your tortillas. The tanginess of the cabbage pairs wonderfully with mild cheese.
Mac and cheese
Speaking of cheese, why not add it to your mac and cheese?
Stir-fry
Add kimchi to your veg in a quick stir-fry dinner. Hint: it pairs really well with pork!
Breakfast hash
Kimchi for breakfast? Absolutely! Cook with some diced potatoes and your choice of breakfast meat for a quick hash that cries out for poached eggs. (While you're at it, use it and some bacon as a filling for an omelet.)
I'm sure I've missed a few. How do you like to eat your kimchi?
Source: Flickr User Ruocaled