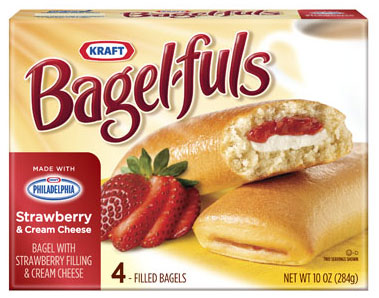 These three lucky ladies have ditched their boring breakfast habits and are now in new relationships. Congratulations EML13, garlandofroses, and Rancher'sGirl, you are our readers' favorite breakfast heartbreakers!
But just to make sure you've kicked your old breakfast to the curb for good, you'll all be receiving the Bagel-fuls Breakfast Breakup Survival Kit, including a brand new toaster, Tassimo coffee maker, travel coffee mug, and Bagel-fuls coupons!
For all you ladies looking for a little motivation to break up with your breakfast, take a look at the winners' stories to help you find the encouragement.
"Typically, I alternate between oatmeal and cold cereal with milk, but I've been trying to incorporate more protein with eggs or toast/bagels with peanut butter. I'd definitely try out Bagel-fuls — I'm always up for trying out new breakfast options!"
"My 'Breakfast Breakup':
Before I used to always have cold cereal and milk. But lately I have moved away from that I am starting to really enjoy making oatmeal or Cream of Wheat . . . sooo good! Plus, there are unlimited variations to these breakfast foods. The one I like the most is adding lots and lots of cinnamon to my oatmeal or Cream of Wheat."
"From the time my alarm clock rudely interrupts my slumber until I am out the door, I have twenty minutes. I had been relying on sugar-laden goodies to be my breakfast but no longer. I've started eating whole grain toast, sometimes with a hardboiled egg as well, along with my cup of morning coffee or juice. I'd like to include a Bagelful once in a while as a fun treat and healthy way to start my day."