 This week, I picked up some amazing looking beets at the farmers market. I've been saving them to make this weekend, as the weather is supposed to be great, and I want to invite folks over for a little gathering in my backyard. We'll have cool drinks and barbeque, but to start things off, I'm going to serve them a salad of summer greens, herbs, roasted beets and hazelnuts. To get the recipe,
.
Note: You can roast the beets earlier, I plan on doing them the day before, so that the oven is not on during the warm day. Or alternatively, I could have cooked them on the grill.
Also, consider saving time by using pre-seasoned nuts.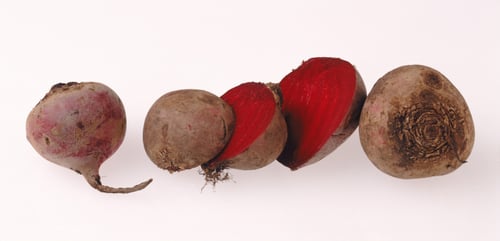 Ingredients
3/4 pound medium red or golden beets (about 3), scrubbed
1/4 cup unseasoned rice vinegar
2 tablespoons water
1 cup hazelnuts (about 4 ounces), lightly toasted
1 tablespoon simple syrup (see Note)
Sea salt and freshly ground pepper
Twelve 1/4-inch-thick baguette slices
1/2 cup extra-virgin olive oil
1/4 pound blue cheese, such as Roquefort, at room temperature
8 loosely packed cups mesclun (about 6 ounces)
1/4 cup flat-leaf parsley leaves
3 tablespoons tarragon leaves
3 tablespoons chervil leaves
3 tablespoons snipped chives
Directions
Preheat the oven to 500°. In a small baking dish, toss the beets with 2 tablespoons of the vinegar and the water. Cover with foil and bake for 1 hour, or until tender. Let cool, then peel the beets and cut them into 1/4-inch wedges. Reduce the oven temperature to 350°.
In a small bowl, toss the hazelnuts with the simple syrup and 3/4 teaspoon each of salt and pepper. Transfer to a parchment-lined baking sheet and bake for 25 minutes, or until the syrup-covered nuts are shiny and dry. Let cool. Leave the oven on.
Brush both sides of the baguette slices with 2 tablespoons of the olive oil. Arrange on a baking sheet and bake for 10 minutes, or until lightly toasted. Let cool, then spread with the blue cheese.
In a large bowl, whisk the remaining 2 tablespoons of vinegar and 6 tablespoons of olive oil until blended. Season with salt and pepper. Add the mesclun, herbs, beets and hazelnuts; toss to coat. Transfer the salad to plates and serve with the Roquefort toasts.
Note: To make simple syrup, combine equal parts of sugar and water and simmer over moderate heat to dissolve the sugar. Refrigerate any leftover syrup.
Information
Category

Vegetables, Salads