Padma Lakshmi Coffee Recipe
Stay Warm This Season With Padma Lakshmi's Cardamom Cappuccino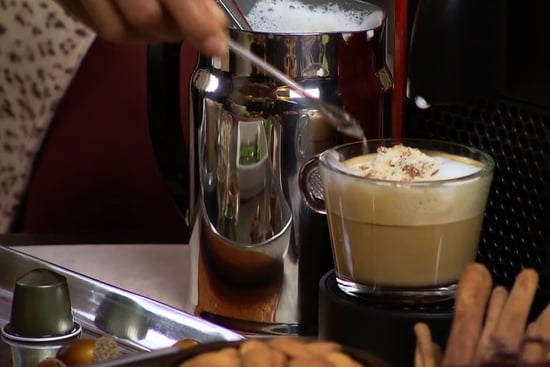 It's no secret that we're big fans of pumpkin and chai tea lattes during chillier months, so when we interviewed Padma Lakshmi, we were excited to try her recipe for a warming, spicy beverage with her signature Indian twist.
Padma, who's teamed up with Nespresso, recommends making this cup to your liking, from using the milk of your choice to adding as much spice as necessary. "The cardamom has a fantastic aroma, and it really makes you feel cozy," Padma said. "Something about the aroma of nutmeg and cardamom really smacks of Fall. It makes you want to stay in, build a fire, and just get together and entertain at home. I think it's the perfect coffee drink, either for morning or after dinner."
The dark roasted coffee; warming cardamom and nutmeg; foamy layer of milk; and crunchy, nutty bits of almonds all chime Autumn. It's rare to find a flavorful, spiced coffee that isn't syrupy sweet, yet this particular beverage doesn't rely on sugar for its flavor. I tried the beverage using almond milk and raw sugar and was surprised by how well cardamom complements coffee. Adding just a smidgeon of sugar rounds out the bitterness from the coffee, and the almond garnish gives it a nice crunch that reminds me of a peanut garnish I recently used in another coffee drink.
While Padma uses an Indriya from India Nespresso pod to make this beverage, non-Nespresso U machine ($199) owners can still get a similar feel from their own brew of a dark-roasted cup of coffee with spicy flavor notes. I'm a huge fan of the Nespresso Aeroccino ($99) and use mine all the time, but if you don't have a milk frother, then simply heat the milk before adding it to the coffee. You could also top the beverage with whipped cream to achieve a makeshift frothy top.
Keep reading to learn how to brew your own cardamom cappuccino.
Cardamom Cappuccino
From Padma Lakshmi
Ingredients
1/2 cup regular coffee, 2 shots espresso, or 1 lungo pour (4 ounces) Nespresso coffee, such as Indriya of India, brewed
1/2 cup dairy or nondairy milk
1/2 teaspoon raw sugar
1/4 teaspoon ground green cardamom
Pinch of raw, unsalted almonds, crushed
Pinch of nutmeg
Directions
Pour the prepared coffee into a cappuccino cup.
In a milk frother or in a saucepan over the stove, heat milk, sugar, and cardamom.
Pour heated, spiced milk over the coffee. Top with milk foam, if using a milk frother.
Garnish with almonds, a tiny pinch of nutmeg, and a larger pinch of cardamom.
Makes 1 cappuccino.
Information
Category

Drinks, Coffee

Cuisine

Indian