Padma Lakshmi on Top Chef Season 10
Padma Lakshmi Hints About Top Chef's "Unexpected" 10th Season
With only a month left before season 10 of Top Chef begins, host Padma Lakshmi is gearing up for the Nov. 7 premiere. She sat down with us to talk about the surprises of the season, her fascination with Seattle cuisine, and what she's eating and drinking this Fall.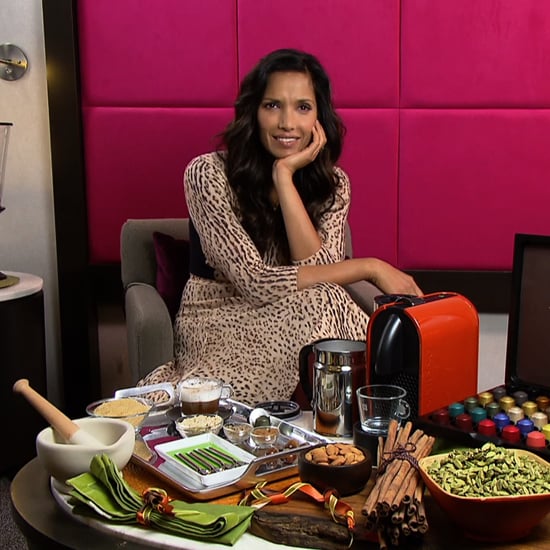 YumSugar: Top Chef Seattle follows two blowout seasons (All-Stars and Texas), but does this season have the potential to surpass them both?
Padma Lakshmi: I hope it does. I can tell you it was a lot of fun and very exciting. I didn't know what to expect, because I had never really spent any time in Seattle. I had a blast, so I hope that the audience will too.
YS: How would you describe season 10?
PL: Unexpected, in one word.
YS: What was the most challenging part of hosting this season?
PL: I think not gaining too much weight. Honestly, I think I ate more on this season of Top Chef than any time before and I'm not sure why that is. I think I didn't expect for there to be such wonderful, abundant food in Seattle. It is a very serious food town, from the goat cheese to the crab to all of the salmon. I ate constantly. I think I must have gained 13 pounds.
Read more about Padma's favorite Fall foods.
YS: When you went home after long day of shooting, what quick dinners did you put together?
PL: I really kept it simple. We work such long hours. I tended not to each too much when I wasn't on set, just grains, lentils, beans, and brown rice. Other than cooking for my daughter, I don't think that I ate much off set, but I ate a lot on set.
YS: Since Fall has just begun, what foods are you most excited about and how do you cook them?
PL: I'm really excited about all the squash and the pumpkin that's coming in now. I love Fall; it's my favorite season. I'm looking forward to making lots of roasts, and I love all those mulling spices like nutmeg, cinnamon, and cardamom. I love to use those with my coffee. We always talk about spiced tea, but coffee is a wonderful template or canvas for those spices.
YS: What other spices do you enjoy cooking with during the Fall?
PL: I actually use coffee as a spice. I know that sounds odd, but I have taken a nice little espresso like a ristretto, which is a really short [espresso] pour, and I've incorporated that into my mole or some of my glazes for a roast like a pork shoulder or a beef brisket. Coffee pairs beautifully with chipotle, honey, and all those different components that you would just glaze your whole roast with and then baste with it as you cook it low and slow for a really long time.
Tomorrow, come back to YumSugar for Padma's warming cardamom cappuccino recipe, and in the meantime, watch the recently released trailer for season 10's Top Chef. What do you think the big, unexpected twist of the season is? Unleashing the contestants out in the snowy wild to capture and forage their dinner?