Panna Cotta Is Perfect Non-Chocolate Valentine's Day Dessert
Panna Cotta Is Perfect Non-Chocolate Valentine's Day Dessert Happy Valentine's Day! While some guys have a sweet tooth, I know a few who don't enjoy decadent chocolate desserts. If your honey happens to be a choco-hater, serve him panna cotta, a delicious Italian dessert.
Heavy cream, sugar, gelatin, and vanilla bean combine to make this incredibly simple, but insanely scrumptious treat. It has the chilled texture of custard without the flavor of eggs. Show your love by making the panna cotta in a heart-shaped baking dish. For a festive touch, drizzle raspberry sauce (caramel or honey would be equally delicious) over the cream heart. To start cooking — panna cotta needs several hours to set — 
.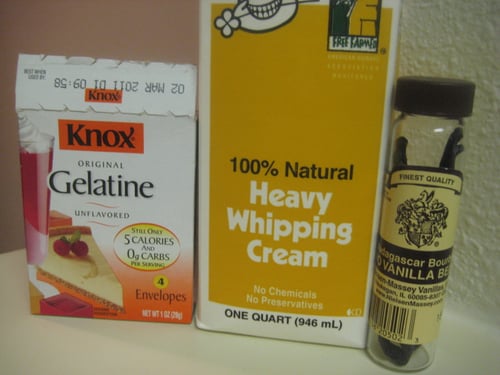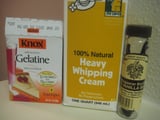 Ingredients
2 teaspoons unflavored gelatin (from one envelope)
3 cups heavy cream
1 vanilla bean
1/2 cup granulated sugar
fresh raspberries, optional for garnish
Directions
Place six 3 1/2-ounce ramekins (3 inches in diameter, 1 1/2 inches deep) on a rimmed baking sheet. Refrigerate until cold.
Put 3 tablespoons cool water into a medium bowl. Sprinkle with gelatin; let stand until gelatin has softened, about 5 minutes.
Meanwhile, place the cream, vanilla bean, and sugar in a saucepan and bring to a simmer. Remove from the heat.
Remove the vanilla bean and split lengthwise. Scrape the vanilla beans into the cream.
Pour cream mixture into bowl with gelatin; whisk until gelatin has dissolved.
Pour through a sieve into a bowl. Pour cream mixture into chilled ramekins. Refrigerate until set, about 2 hours.
To remove from the mold: Dip the bottom of the mold into a pot of hot water to loosen the panna cotta. Slide a knife around the edge, then carefully turn over onto a serving plate.
Drizzle with the raspberry sauce and garnish with fresh raspberries, if desired.
Makes 6.
*I halved the recipe and used a strawberry jam since it is what I had on hand.
Information
Category

Desserts, Puddings/Mousse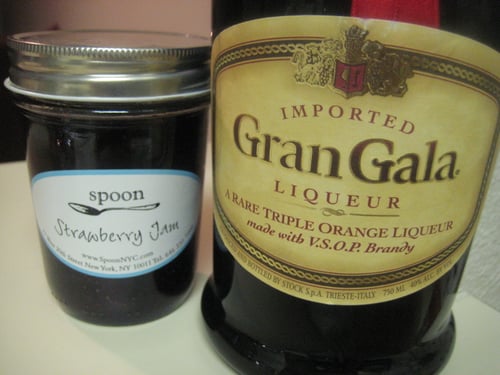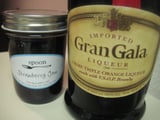 Ingredients
1 half-pint fresh raspberries
1/2 cup sugar
1 cup seedless raspberry jam
2 tablespoons orange-flavored liqueur (recommended: Grand Marnier)
Directions
Place raspberries, sugar, and 1/4 cup water in a small saucepan. Bring to a boil, lower the heat, and simmer for 4 minutes.
Pour the cooked raspberries, the jam, and orange liqueur into the bowl of a food processor fitted with the steel blade and process until smooth. Chill.
Makes 2 cups.
Information
Category

Condiments/Sauces, Jellies/Jams