Papas Rellenas From La Carreta in Miami
Discovering Papas Rellenas in Miami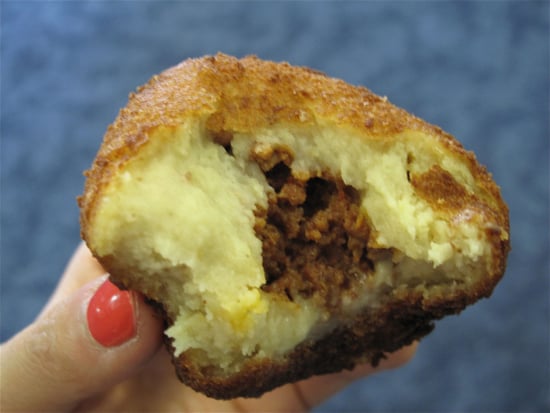 Hot off the South Beach Wine & Food Festival, I scoured the Miami International Airport terminal for some viable food options, as I was still — believe it or not — hungry. But my choices were extraordinarily slim, unless I wanted to grab a three-inch-thick slice of pizza sitting under a heat lamp or a pile of greasy lo mein from Manchu Wok.
I continued walking until I came upon an eatery with the Spanish name La Carreta, which translates as "The Cart." I was getting down to the wire on time, so I hastily ordered a salad. That's when I spotted a machine full of empanadas. "What's that?" I asked the guy behind the counter, pointing to a round, puffy fritter. "Oh, it's a Papa Rellena — I like them very much and think you will, too," he told me.
He couldn't have been more spot-on — "loved" would've been a better word. It was shepherd's pie meets hush puppy, a battered exterior followed by a layer of impossibly creamy potato and a center of cumin-scented ground beef. I instantly regretted not having bought another. And as I settled into my plane seat with the latest edition of Saveur, I instantly regretted not adding a Cuban sandwich on top of that. Sigh. Anyone down to go to Miami this weekend?