Parmesan Crisps
Parmesan Fricos: Cheese Crisps, All Grown Up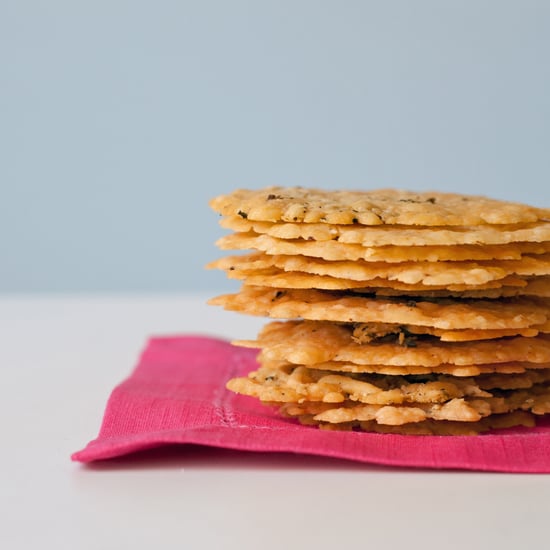 Fricos, essentially crispy discs made of nutty grated cheese, are native to Italy's Friuli region. Traditionally, Montasio cheese is the main ingredient, but Parmigiano-Reggiano is a solid substitute (and much easier to find stateside). These sophisticated cheese crisps are an excellent garnish for salads and soups — they'd be particularly at home atop this spicy tomato option — but they truly shine when paired with a glass of Prosecco, as a light, luxurious appetizer.
Photo: Nicole Perry
Parmesan Fricos
Adapted from Gourmet
Ingredients
1 8-ounce piece Parmigiano-Reggiano
2 1/2 tablespoons all-purpose flour
1/2 teaspoon black pepper
3/4 teaspoon herbes de Provence, optional
Directions
Preheat oven to 375°F. Line a half sheet pan with a silpat.
Using the largest holes on a box grater, coarsely shred the cheese. Stir together the cheese, flour, pepper, and herbes de Provence in a large mixing bowl. Arrange tablespoons of cheese four inches apart on the silpat, stirring the cheese mixture in the bowl between tablespoons to keep the flour evenly distributed. Flatten each mound slightly with your fingertips to form a three-inch round.
Bake the fricos until golden, about 10-12 minutes. Cool two minutes on the half sheet pan, then carefully transfer each crisp (they are very delicate) with a thin spatula to a rack to cool completely.
Information
Category

Appetizers, Breads/Crackers

Cuisine

North American

Yield

About 24 fricos