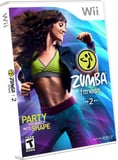 How do you get a fun and effective workout at home? With your Wii and Zumba® Fitness 2! The smash hit dance-fitness party is back to amp up the experience with 32 all-new routines, customizable workouts, and electrifying tracks by Pitbull, Nicole Scherzinger, and more. And what's better than getting to work out at home? Working out with friends at home! You can party with up to four players as you learn 24 different dance styles from superstar Zumba instructors. So get your Wii Remote ready because you're about to show those holiday feast calories who's the boss! Buy it now, here.
Don't miss the video below to see what the buzz is all about.
Legals:
©2011 Majesco Entertainment Company. All rights reserved. Zumba®, Zumba® Fitness and the Zumba Fitness logos are registered trademarks of Zumba Fitness, LLC. Used with permission. Developed by Zoe Mode.