Pasta with Roasted Vegetables and Peaches
Trend Alert: Peaches As a Savory Ingredient This Summer, peaches have moved from being an ingredient in desserts to being the star of savory dishes. From salads to satays, peaches are popping up in places out of the ordinary. I decided to give this trend an experiment by making this roasted vegetable pasta. After all, what better way to celebrate peach season than to center a main course on the beloved stone fruit?
Roasting the peach, as well as the vegetables, makes everything sweeter, and lends a smoky depth to the overall flavor. If you prefer less tart peaches, swap the traditional yellow peach with a white peach. Peaches at the store not looking so great? Ripen them at home. This recipe is great for vegans and vegetarians, but for added protein, toss in sliced chicken breast. To check out the savory peach trend in a scrumptious pasta dish,
.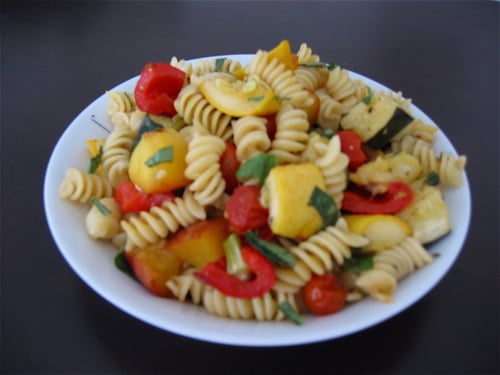 Pasta With Roasted Vegetables and Peaches
From Shape magazine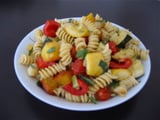 Ingredients
Cooking spray
12 ounces spiral-shaped pasta
1 medium zucchini, halved lengthwise
1 medium yellow squash, halved lengthwise
1 red bell pepper, seeded and quartered
1 peach, halved and pitted
2 tablespoons olive oil, divided
Salt
Ground black pepper
1 cup cherry or grape tomatoes
4 green onions
For dressing:
1/2 cup orange juice
1 tablespoon honey mustard
1 tablespoon balsamic vinegar
1 tablespoon chopped fresh thyme or 1/2 teaspoon dried
Salt
Ground black pepper
1/4 cup chopped fresh basil
Directions
Preheat oven to 450°F. Coat a large baking sheet with cooking spray.
Cook pasta. Drain and transfer to a large bowl.
Meanwhile, place zucchini, squash, bell pepper and peach on prepared baking sheet, flesh-side up. Brush the tops with 1 tablespoon of the olive oil. Season with salt and black pepper. Place tomatoes and green onions on tray (do not baste). Roast 25 minutes, until all are tender and golden brown.
In a medium bowl, whisk together orange juice, honey mustard, balsamic vinegar, remaining tablespoon of olive oil and thyme. Season to taste with salt and black pepper. Add mixture to pasta and toss to coat.
Chop roasted vegetables (except tomatoes) and peach into 1-inch pieces and add to pasta mixture. Add tomatoes and toss to combine. Fold in chopped basil. Serve warm or chilled.
Serves 4.
Information
Category

Pasta, Main Dishes

Cuisine

North American