Patatas Bravas Recipe
Take a Trip to Spain With Patatas Bravas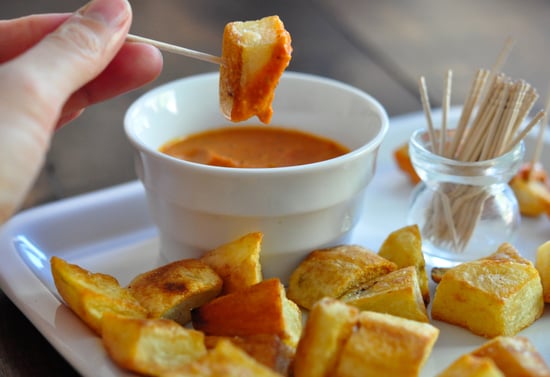 If you've visited Spain, chances are, you've sampled patatas bravas. They're a standard tapa at just about every restaurant: a fried, bite-sized piece of potato, that's smothered in a slightly spicy paprika- and mayonnaise-based sauce. I fell in love with the simplicity of the dish years ago, but only recently tried to re-create this classic dish in my own kitchen.
Traditionally, the potato pieces are deep fried, but I skipped the frying to keep this tapas recipe a touch healthier, and so my house wouldn't smell like a fast food joint. Instead, I achieved a crisp and golden potato using a hot oven and potatoes coated in olive and canola oils.
While the spuds cooked, I made the dipping sauce, which is a piece of cake if you employ the food processor. To present this dish, either drizzle the sauce over the potatoes, or serve it as a finger food, with a plate of golden potatoes and the sauce in a small bowl on the side. Get ready for a taste of Spain when you read more.
Patatas Bravas
Inspired by Saveur
Ingredients
3-4 large russet potatoes, cleaned, peeled, and chopped into 1/2 inch pieces
1 tablespoon canola oil
3 tablespoons olive oil, divided
1⁄2 cup (4 ounces) crushed tomatoes
1 teaspoon red wine vinegar
1 teaspoon hot smoked paprika
1⁄4 teaspoon sugar
1 serrano chile, minced
1 clove garlic, minced
1 tsp. fresh lemon juice
1/4 cup mayonnaise
Kosher salt, to taste
Directions
Preheat the oven the 425ºF. In a large roasting pan, combine the potatoes, canola oil and 2 tablespoons of the olive oil, tossing to coat the potato pieces evenly in the oil.
Place the potatoes in the oven and cook until crisp and golden about 20-30 minutes. Be sure to occasionally stir them, so they don't stick.
While the potatoes are baking, prepare the sauce: using a food processor, blend the tomatoes, red wine vinegar, paprika, sugar, chile, garlic, lemon juice, mayonnaise, and remaining olive oil until smooth. Add salt to taste.
Remove the cooked potatoes from the oven, and season to taste. Plate the potatoes and serve with a small bowl of dipping sauce.
Serves 4-6 as an appetizer.
Information
Category

Vegetables, Appetizers

Cuisine

Spanish/Portuguese