Paula Deen White Bean Chili Recipe
It's Tailgating Time! White Bean Chili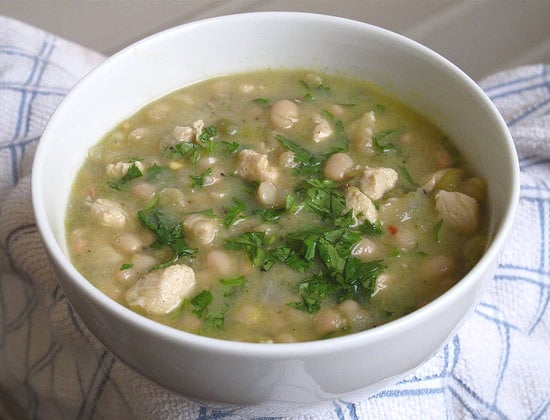 When I learned that the concept of white chili is foreign to a number of you, I took it upon myself to make the case for why this stuff is better than a bowl of red. I love tomato-based chili — especially when it's conveniently made in a slow cooker — but I positively crave the white kind. Not just any kind: Paula Deen's white bean chili.
It's green chilies (I prefer the Hatch variety), white beans, chicken, and cilantro, slow-simmered for hours to become a stew that's creamier and more tender than its tomato-based counterpart. Make this white chili, and you'll be the talk of any tailgate. To take a peek at how it's done (like all things Paula, it starts with butter!), read more.
Ingredients
1 pound dried navy beans
5 cups chicken stock
4 tablespoons (1/2 stick) butter
1 tablespoon minced garlic
3/4 cup diced onion
1 1/2 cups chopped green chiles (fresh or canned)
1 pound boneless, skinless chicken breasts, finely chopped
1 tablespoon ground cumin
1 tablespoon dried oregano
1 to 2 teaspoons ground black pepper
1/2 teaspoon white pepper
Pinch red pepper flakes
1/2 bunch cilantro leaves, chopped
Directions
Rinse beans well, cover with cool water, and soak for 2 hours. Drain. Put the beans in large pot with the chicken stock and bring to a boil over high heat.
In a saucepan, heat the butter over medium heat. Add the garlic, onion, and chiles and saute for 5 minutes. Add chile mixture to pot with beans. Add the chicken, cumin, oregano, pepper, white pepper, red pepper flakes, and cilantro. Lower the heat to medium and cook, stirring occasionally, for approximately 1 1/2 hours. Serve with cornbread, if desired.
Serves 10 to 15.
Information
Category

Soups/Stews, Chili

Cuisine

North American