Peach Season
In Season: Peaches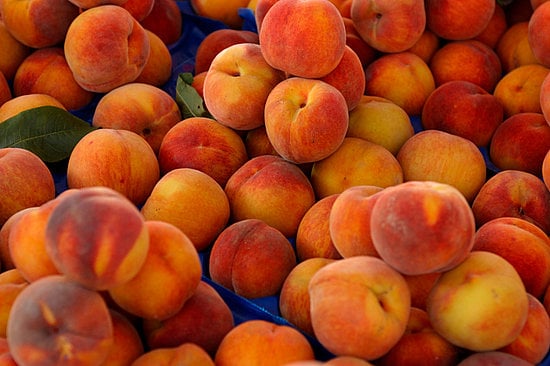 July is peak time for peaches, those stone fruits so known for their floral aroma, fuzzy skin, and juicy flesh. To take full advantage of the fact that right now they're at the apex of their ripeness, I stopped by San Jose's J&P Farms — Santa Clara County's last working orchard. After taking a stroll through the rows of peach trees, I spoke with owner Phil Cosentino about peach season.
While peaches are ready as early as May and available until late September, peach season is at its peak in July and August — although since peach season began early this year due to warmer weather, it'll wrap up sooner than usual.
Keep reading to find out how to pick the perfect peach.
Photo: Susannah Chen
Whenever possible, visit a local peach orchard or fruit stand, as many large commercial grocery giants select peaches before they are meant to be plucked from the vine. Whether selecting peaches at an orchard, fruit stand, or supermarket, examine the area around the stem, as it indicates ripeness when picked: the stem cavity should be wide and open rather than narrow and restricted. To select the sweetest peaches, take a look at the peach's base color. The peach's lightest color, regardless of shade (cream, yellow, orange, etc.), should be a warm hue. The best peaches will have no green undertones.
One last thing: don't squeeze peaches when selecting them; you'll simply bruise them. That said, it is perfectly fine to pick a bruised peach, as many of them are extremely sweet, and the bruises are harmless.
Photo: Susannah Chen
Do you have peach stands near your house? If you have other peach tips to offer, share 'em with us below. In the meantime, here are a few peach recipes, should you find yourself with a surplus of the fruit.