Peanut Butter and Chocolate Popsicles
Scream For It! Peanut Butter and Chocolate Popsicles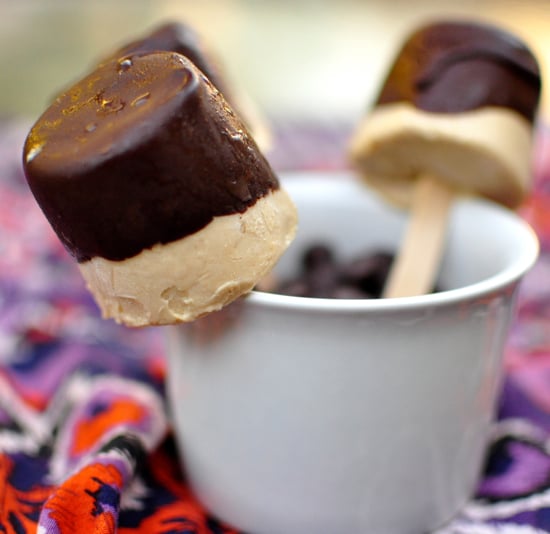 There are certain things in this world that are a natural match made in heaven; the pairing of peanut butter and chocolate is one of those combinations in my book. Everyone's seen this in ice cream, but I decided that it's time for a peanut butter pop dipped in some choc!

I used all-natural peanut butter since I had it on hand, but a traditional store-bought peanut butter like Skippy or Jif would make a better base, as the flavor is more intense. Since these little guys are exceptionally rich, keeping these popsicles on the miniature side is key (if you don't have small popsicle molds, use tiny paper cups or shot glasses instead).

The chocolate shell needs to be cool to room temperature to ensure you don't melt the popsicles while dipping. Once dipped, however, the popsicles are ready to eat; alternatively, store them in the freezer until you're ready to serve them.
If you, too, are a peanut butter-and-chocolate fiend, bust out your popsicle sticks and get to freezing these easy chocolate and peanut butter packed popsicles. Read ahead for the recipe.
Peanut Butter and Chocolate Popiscles
From Lauren Hendrickson
Ingredients
3/4 cup creamy peanut butter
1/2 teaspoon vanilla
1 cup whole milk
1/2 cup heavy cream
1/2 cup confectioner's sugar
Pinch of salt
1/2 cup chocolate chips
2 tablespoons canola oil
Directions
Combine ingredients: Using a blender, combine the first 6 ingredients until well-blended and creamy.
Fill popsicle molds: If using conventional molds, divide the mixture between the molds and freeze until solid, about 5 hours. If using shot glasses or other unconventional molds such as paper cups, freeze until the pops are beginning to set, then insert the stick and freeze until solid, 4 to 5 hours.
Make chocolate for dipping: To create chocolate coating, microwave the chocolate chips for about 1 minute or until nearly melted. Mix in the canola oil, stir until thoroughly incorporated, and set aside until cooled.
Dip popsicles in chocolate: Place the chocolate coating in a shallow dish like a small ramekin and quickly dip the frozen peanut butter popsicle into the chocolate. The chocolate coating will harden nearly instantly. Serve immediately, or return popsicles to freezer until ready to serve.
Makes 8 popsicles.
Information
Category

Desserts, Frozen

Cuisine

North American