Pearl Couscous With Roasted Tomato Recipe
Summer of Salads: Pearl Couscous With Roasted Tomatoes
During the Summer, I love to experiment with different salad recipes. There's a plethora of fruits and vegetables to choose from at the market, and the hot weather almost requires salads as a side dish. Since I had never cooked with Israeli couscous, I recently made this scrumptious salad. Israeli couscous, or pearl couscous as it's sometimes called, is larger than regular couscous and has a chewy texture and orzo-like starchiness.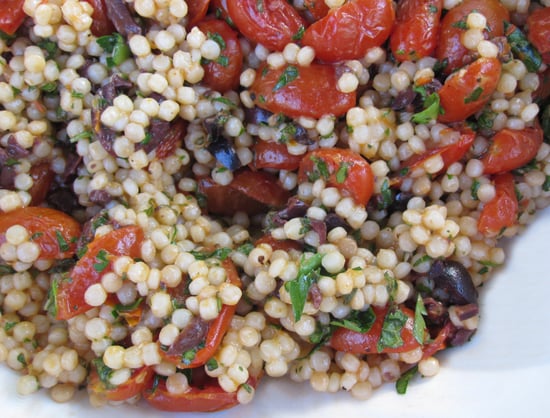 It can be mixed with just about anything, but this recipe coats it in a roasted tomato and garlic dressing before tossing it with tomatoes, black olives, and tons of fresh herbs. The resulting salad is easy to transport and would be great for a picnic. Serve with grilled meat at a barbecue or, for a lighter meal, a chunk of hard cheese and grilled bread. Trust me, this salad recipe is a keeper! Get it now.
Pearl Couscous With Roasted Tomato
From Gourmet
Ingredients
For roasted tomatoes and dressing
2 pints red grape or cherry tomatoes (1 1/2 pound)
3 large garlic cloves, left unpeeled
1/4 cup extra-virgin olive oil
1/4 cup warm water
1 teaspoon fresh lemon juice
1 teaspoon salt
1/4 teaspoon black pepper
For couscous
2 3/4 cups chicken broth
2 1/4 cups pearl (Israeli) couscous
1 tablespoon olive oil
1/2 cup Kalamata or other brine-cured black olives, pitted and chopped
1/3 cup chopped fresh flat-leaf parsley
1/4 cup chopped fresh mint
1 teaspoon chopped fresh thyme
Directions
Roast tomatoes and make dressing: Preheat oven to 250°F. Halve tomatoes through stem ends and arrange, cut sides up, in 1 layer in a large shallow (1-inch-deep) baking pan. Add garlic to pan and roast in middle of oven until tomatoes are slightly shriveled around edges, about 1 hour. Cool in pan on a rack 30 minutes.
Peel garlic and purée with oil, water, lemon juice, salt, pepper, and 1/2 cup roasted tomatoes in a blender until dressing is very smooth.
Make couscous: Bring broth to a boil in a 3-quart heavy saucepan and stir in couscous, then simmer, uncovered, 6 minutes. Cover pan and remove from heat. Let stand 10 minutes.
Spread couscous in 1 layer on a baking sheet and cool 15 minutes.
Transfer couscous to a bowl and stir in remaining ingredients, dressing, roasted tomatoes, and salt and pepper to taste.
Serves 6.
Information
Category

Grains , Salads

Cuisine

Mediterranean/Middle Eastern