Pepperidge Farm Blueberry Swirl Bread Review
Snag a Loaf of Pepperidge Farm's New Swirl Bread Before It's Too Late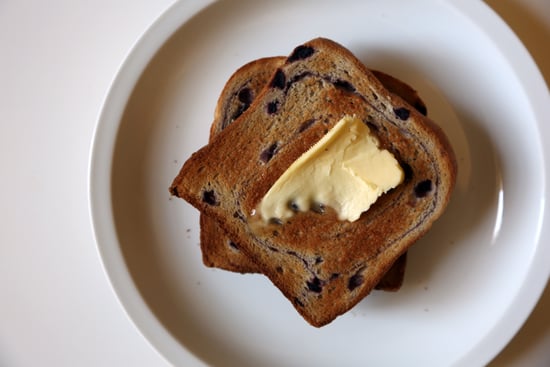 Pepperidge Farm's swirled loaves have a special place in my heart: growing up, I was never allowed white bread, save for an occasional slice of Pepperidge Farm Cinnamon Swirl, because even my mother couldn't resist the loaf. So when we received a special delivery of the breadmaker's newest, limited-edition flavor, Blueberry Swirl ($4), I audibly squealed with delight (to the alarm of my co-workers) and sprinted to the toaster.
The spongy, melt-in-your mouth bread has all the awesome qualities found in the original cinnamon loaf; only this time, it's dotted with dried blueberries and a blueberry-flavored swirl. Is it made with real blueberries? Don't know and don't care! Actually, a quick scan of the ingredients does show dehydrated blueberries and blueberry juice concentrate (at the very bottom of the list). But that's no bother! The blueberry flavor bursts forth, making this one berry fruity, addictive bread. Try to stop at one slice; I dare you. Keep reading to see how long it's on shelves.
The blueberry swirl bread tastes remarkably good on its own and undoctored, but make your taste buds weep with delight by giving the bread a thorough toasting and a heavy pat of butter (or cream cheese). Sadly, the bread is only available now until the end of May, so when you see the limited-edition bread in the bread aisle of most major grocery stores, do not delay. Snag a loaf (or three), and prepare to go through it in record time. Here's a little perspective: between two editors, it was gone before the end of the workweek . . . and I think we received it on a Wednesday.