Peppermint Fudge Recipe
12 Days of Edible Gifts: Peppermint Fudge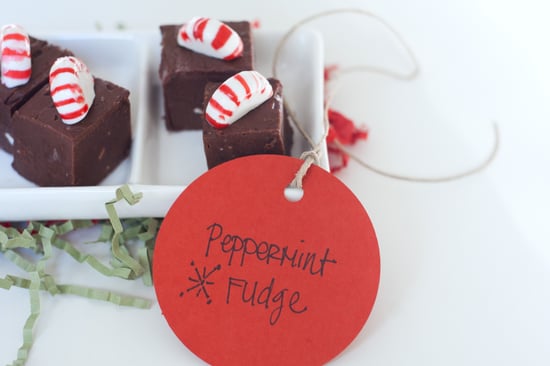 Many people have the misconception that edible gifts have to be really involved, but the truth is, you don't necessarily need a whole day, obscure ingredients, or advanced kitchen skills to create your own signature holiday sundries. Peppermint fudge is a wonderful example of this: with just 15 minutes of prep, less than 10 basic ingredients, and no baking time whatsoever, you've got yourself an impressive batch of candy that's nearly big enough for all the friends on your gift list.
Since the holidays and peppermint go hand in hand, a peppermint-infused recipe is perfect this time of year. I love that this recipe's not too sweet, and it's just pepperminty enough; the key to its success is a high-quality chocolate (I used semisweet baking chips by See's, but any reputable brand will work). If you wanted to go the fancy route, you could individually wrap these adorable confections in colored tinfoil, but for even easier gifting, package them inside a tissue paper-lined tin. For the easy peppermint fudge recipe, keep reading.
Ingredients
Nonstick spray, for baking pan
2-1/4 cups (16 ounces) semisweet chocolate chips
1 cup round peppermint candies, plus 18 for garnish
3/4 cup heavy cream
3-1/2 cups mini marshmallows
5 tablespoons unsalted butter
1-1/4 cups sugar
1 teaspoon coarse salt
Directions
Lightly coat a 9-inch square baking pan with nonstick spray. Line pan with two pieces parchment paper in both directions, leaving 2 inches of overhang on all sides; spray parchment. Place chocolate in a bowl. In a food processor, pulse candies until finely chopped. In a medium saucepan, combine candies, cream, marshmallows, butter, sugar, and salt over medium-high. Whisk until smooth, 5 minutes.
Pour mixture into bowl with chocolate; let stand 1 minute, then stir until smooth. Pour into baking pan and refrigerate until set, 3 hours. Cut fudge into 1-1/2-inch squares. With a sharp knife, cut 18 candies in half; press a candy half into each square before serving or packing.
Makes 36 1-1/2-inch squares.
Information
Category

Desserts, Candy

Cuisine

North American