Pepperoni, Mushroom, and Sausage Pizza Recipe
My Favorite Pizza: Pepperoni, Mushrooms, and Sausage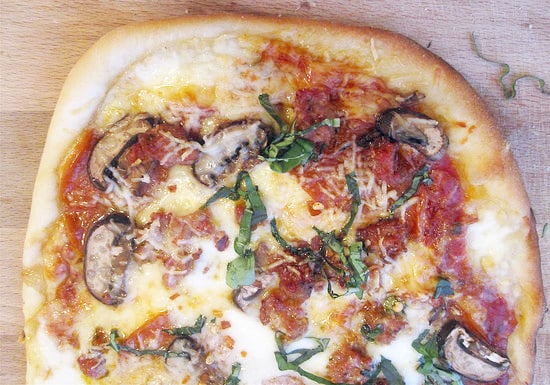 Everyone has a favorite combination of pizza toppings, and mine are pepperoni, mushrooms, and sausage. On a recent Saturday night, I fought the urge to order a pie and instead decided to make my own! I picked up some dough from Whole Foods, but was a little disappointed. It was incredibly hard to roll out to a very thin crust. Still, thanks to the meaty toppings, the resulting pizza was absolutely satisfying and delicious. If using store-bought dough, homemade pizza is a great fast and easy dinner, so check out my recipe when you read more.
Pepperoni, Mushroom, and Sausage Pizza
From Katie Sweeney
Ingredients
1 store-bought pizza dough
Marinara sauce
2 cups shredded mozzarella cheese
1 hot Italian sausage, crumbled and cooked
1 cup sliced mushrooms
20 slices of pepperoni
1 cup fresh mini mozzarella balls
1 cup finely grated parmesan
2 tablespoons fresh basil, julienned
Red pepper flakes, for serving
Directions
Preheat the oven to 450°F. Place a baking sheet in the oven to warm while you assemble the pizza.
Cut the dough in half. On a lightly floured piece of parchment paper, roll out each half of dough to the thinnest circle as possible. Ideally, you will have two 10 to 12-inch pies.
Cover each dough with marinara sauce, spreading evenly and leaving a 1/2-inch border around the edge of the pie.
Sprinkle evenly with the shredded mozzarella. Distribute the crumbled sausage, sliced mushrooms, and pepperoni liberally and evenly on the pizzas. Dot with the fresh mozzarella balls and sprinkle with parmesan.
Transfer to the prepared warmed baking sheet and cook for 12 to 15 minutes until the pizza is crisp and the cheese is melted.
Top with the fresh basil and red pepper flakes and serve immediately.
Serves 2.
Information
Category

Main Dishes, Pizza

Cuisine

Italian