Pepsi Next Paradise Mango and Cherry Vanilla Review
Taste Test: Pepsi Next Paradise Mango and Cherry Vanilla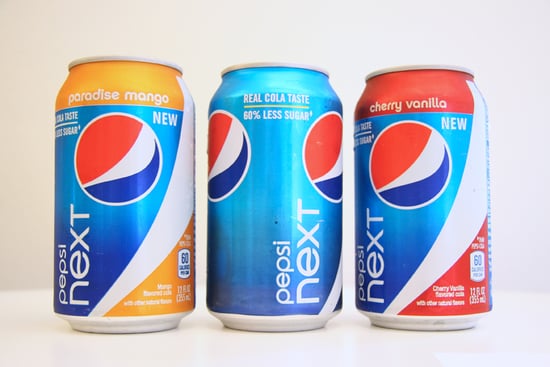 Pepsi Next, the line of Pepsi sodas with 60 percent less sugar than standard cans, has released two new limited-edition flavors for Summer: Paradise Mango and Cherry Vanilla. Considering our generally unfavorable opinion of the new wave of "semidiet" sodas, we were skeptical, but wanted to give the flavors a fair try.
It wasn't easy. We weren't that impressed with Pepsi Next when we taste tested the soda a few months back. To make matters worse, when the new flavors were shipped to us via a sand-filled plastic box, one of the cans exploded inside the box during transit. The YumSugar team shrieked upon realization that the sandbox was seeping, and soda was inches away from our precious laptops. We made a sincere, three-person effort to carry the soaked sandbox to the trashcan without leaving a Pepsi trail.
Despite it all, we cracked the cans anyway and entered into taste-test mode with willing palates and open minds. Find out if the sodas were a hit or a total letdown by reading the taste-test results.
The promise for Pepsi Next Paradise Mango: "Paradise Mango provides a tropical infusion to Pepsi Next drinkers."
What our tasters thought: All tasters were surprised with how good this flavor tasted. Tasters described it as "floral," "fruity," and "like Asian mango jelly." The mango flavors were apparent, but did the artificial sweetener take away from the overall soda flavor? Not really: one taster even exclaimed, "I don't even care if it's artificial."
What YumSugar thought: Who would have guessed that mango and cola flavors would taste great together? Certainly not us! The ratio of mango-to-cola flavor was spot-on, and it has us thinking mango should be "the next lime" to serve alongside diet cola.
Tasters' rating average:
The promise for Pepsi Next Cherry Vanilla: "Cherry Vanilla is a new twist on a tried-and-true favorite for just the right bursts of flavors."
What our tasters thought: This soda's strong vanilla flavor impressed most tasters, although one taster would have preferred cream soda. Another noted that it "overpowered any potential aspartame aftertaste."
What YumSugar thought: A favorite childhood flavor, cherry vanilla cola remains a classic mix that appeals to our nostalgic taste buds. We actually loved that it contains half the calories found in a normal soda.
Tasters' rating average:
Final thoughts: These flavors ($5 for 12 cans) are only available until Sept. 8, and they're definitely worth trying at least once. Even if you aren't a huge artificial sweetener fan, the Summer-inspired Pepsi Next flavors are definitely better than Pepsi Next classic and don't have that funny, fake sugar aftertaste. We hope PepsiCo decides to keep them around! If you have tried these flavors, tell us what you think in the comments below.