Pepsi Next Taste
Pepsi's New Frontier: Pepsi Next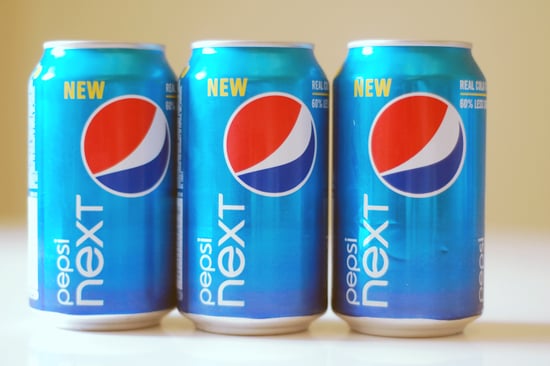 Pepsi Next, which rolled out nationally March 26, is the newest addition to the Pepsi family. The so-called "midcalorie soda" is targeted toward drinkers who are cutting back on sugar, a dietary trend that's been holding steady in recent years. It's made with a combination of high-fructose corn syrup, aspartame, and sucralose, and has 60 percent less sugar than regular Pepsi.
As someone who's always chosen Pepsi over Coke, I pounced at the chance to try the newest addition to the Pepsi family. I grabbed a couple of office mates and every Pepsi product that I could find within a one block radius (Pepsi, Pepsi Max, and Diet Pepsi) for a casual taste test and comparison. Find out what we thought when you keep reading.
We all immediately noticed the fake sugar in Pepsi Next, and we weren't impressed. There's something about artificial sweetness that is more aggressive on your taste buds. And the sweetness cuts off very quickly, whereas real sugar (in the regular Pepsi) seems to linger a little bit longer. That said, we all preferred regular Pepsi over Pepsi Next by a lot. There were quite a few serious Diet Pepsi haters, and Pepsi Max didn't seem to leave much of a lasting impression. Ultimately we'd choose regular Pepsi any day, and if it's a question of trying to cut back on sugar, water is always a good option.
Have you tried Pepsi Next? What do you think of it?