Petit Fours Recipe
A Decadent Bridal Shower Treat: Four-Layer Petit Fours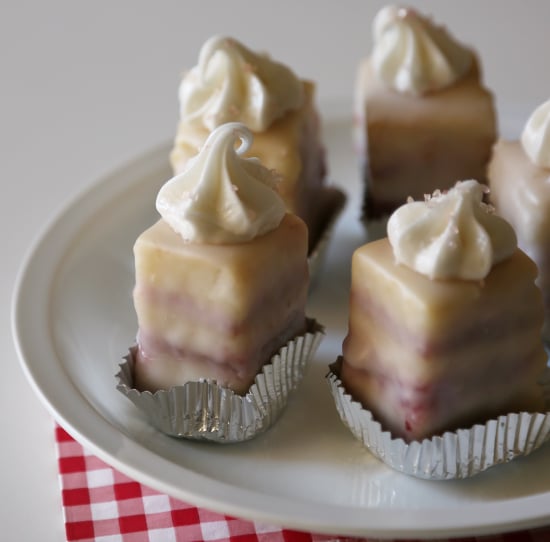 If you're responsible for bringing the dessert to a bridal shower, look no further than this decadent, special occasion treat which feeds a large group of people. Petit fours are miniature layered cakes that take a long time to prepare, but as all will attest, they are so worth it. These are taller than your average petit four, but that's because there are four layers of sour cream-cheese pound cake with sweet cherry preserves filling. The bride and the rest of her party are sure to love the towering tiers of sweetness. To see how it's done, in photos, keep reading.
No, there aren't four separate cakes to create the layers. Cut the cake into two smaller pieces. This makes splitting the cake into two layers an easier process. Saw through the center of each of the cake halves with a serrated knife to create thin layers.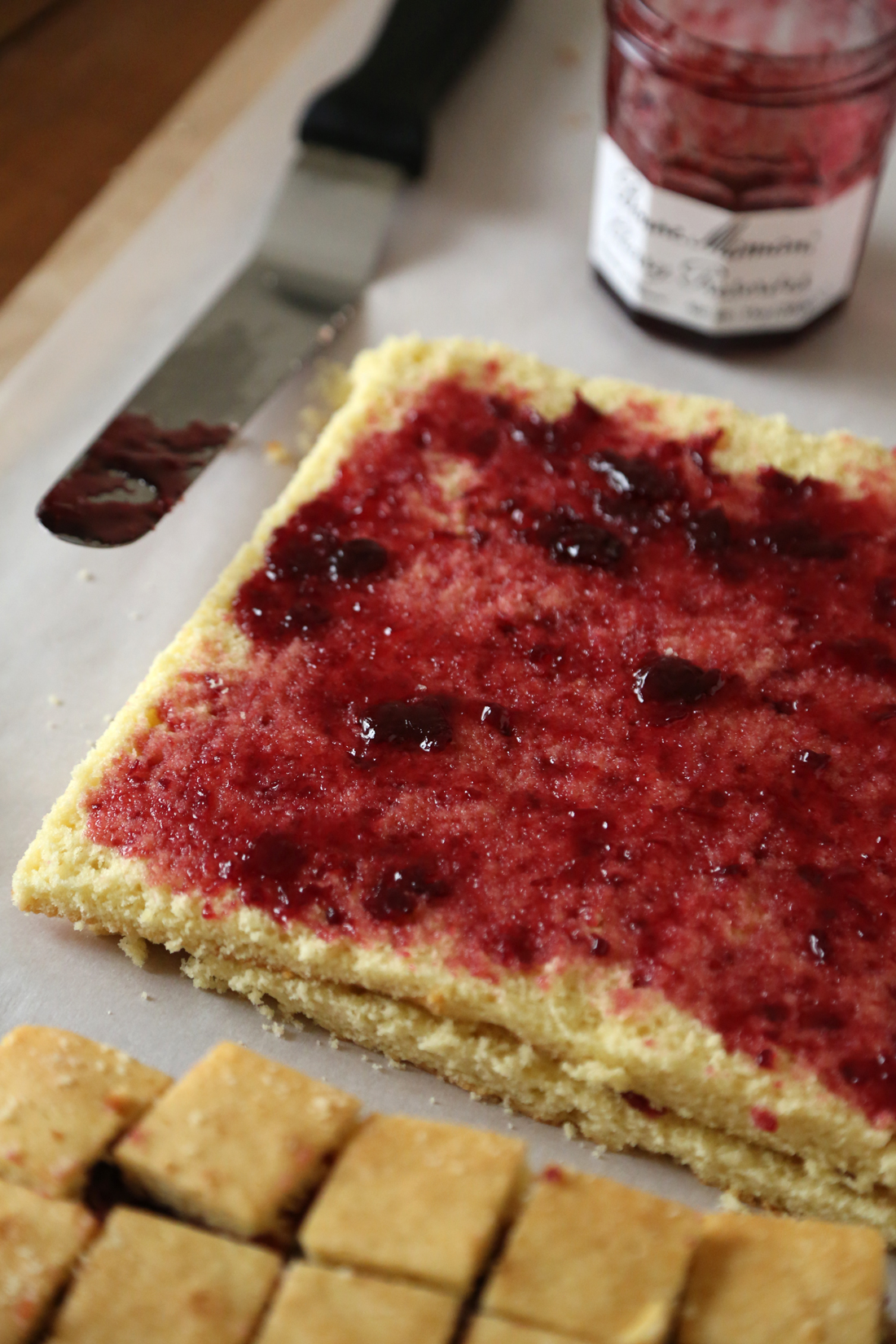 Slather cherry preserves over each half before stacking them on top of one another.
Each of the two-layer halves is cut down the center and sandwiched together to create two pieces with four layers.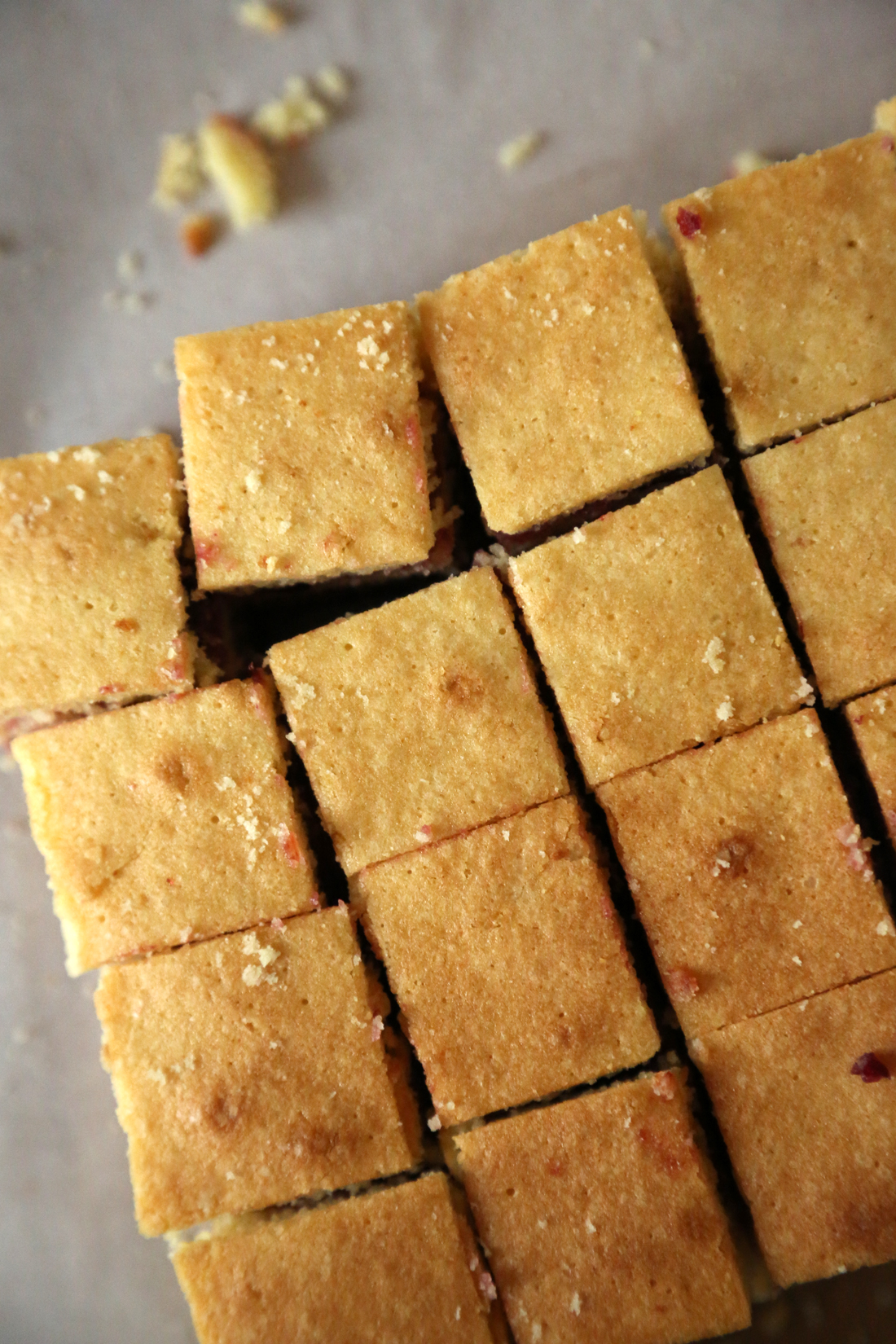 From there, the petit fours are divided into 48 equal pieces, ready for dipping.
A vanilla-almond fondant glazes the cakes. Tower them even higher with a star dollop of buttercream icing. Once the icing has set, transfer the cakes to mini cupcake wrappers.
Cut them open to reveal your hard-earned work!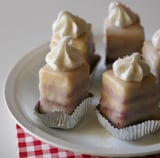 Ingredients
For Cream Cheese Pound Cake:
1-1/2 cups (3 sticks) unsalted butter, at room temperature, plus more for greasing
1 (8-ounce) bar cream cheese, at room temperature
3 cups granulated sugar
6 large eggs
1 teaspoon vanilla extract
3 cups all-purpose flour
2 teaspoons salt
1 (13-ounce) jar cherry preserves, such as Bonne Maman
For Petit Four Icing:
3/4 cup light corn syrup
3/4 cup water
1-1/2 teaspoons vanilla extract
1 teaspoon almond extract
13 to 14 cups powdered sugar, sifted
2 cups store-bought or homemade vanilla buttercream frosting
Pink decorating sugar
Directions
To make cake: Preheat oven to 350°F. Butter a half sheet pan (18" x 13" x 1") and line with parchment paper. In the bowl of a stand mixer fitted with a whisk attachment, beat butter and cream cheese together on medium-high speed until well-combined, about 2 minutes. Add sugar and beat until light and fluffy, about 5 minutes. Add eggs, one at a time, beating well after each egg, until combined, then add vanilla. Reduce speed to low, and add flour and salt in two additions, beating until just combined. Transfer batter to half sheet pan, spreading it evenly across using a plastic spatula. Bake for 40-50 minutes, or until golden and a toothpick test comes out clean. Cool in pan for 10 minutes, then carefully loosen edges of pound cake with a butter knife and flip cake out onto a wire rack. Remove parchment paper and let cake cool completely.
To layer cake: On a flat surface, covered with parchment paper, use a serrated knife to cut caramelized edges off of pound cake, then cut cake width-wise into 2 smaller rectangles (roughly 9" x 13" x 1"). With each rectangle half, carefully saw through the centers to create 2 thin layers (roughly 9" x 13" x 1/2"). Keep the serrated knife parallel to the work surface to ensure each layer is even. Carefully turn each piece over onto work surface. Divide jar of preserves between the four thin rectangular cake layers, spreading evenly with a rubber spatula or offset spatula. Stack each half on top of its other half with the preserves side facing up. (There should now be 2 rectangles with 2 layers of cake, each roughly 9" x 13" x 1".) Cut each rectangle in half again and sandwich the pieces together, jam sides facing in. (There now should be 2 rectangular pieces, each roughly 9" x 6-1/2" x 2", with four layers of cake and three layers of jam.) Divide and cut each rectangle into 24 even pieces. There should be 48 pieces of cake in total.
To make icing: Fill 1/3 of a medium-size saucepan with water and bring to a simmer over medium heat. Meanwhile, in a bowl of a stand mixer fitted with a whisk attachment, mix corn syrup, 3/4 cup water, vanilla, and almond extract over low speed. Carefully mix in powdered sugar in 3-cup increments until thick and well-combined. Transfer mixing bowl to stove top and set it over (but not touching) simmering water until it warms through and small bubbles begin to form on the sides of the bowl. Remove from heat and set aside to prep for dipping petit fours.
To ice petit fours: Place 2 wire cooling racks over 2 half sheet pans (they will catch the dripping icing). Wearing nonpowdered, food-safe gloves, use one hand to hold a petit four with the thumb and middle finger. Hold it over bowl of warm frosting and use the other hand to scoop the frosting over the sides and tops of the petit four. Tap off excess icing before transferring the petit four to the half sheet pan to dry. Continue with all pieces. If icing begins to cool, return it to the double broiler until it is warmed through.
To decorate petit fours: When petit four tops are set, they are ready to be decorated. Transfer vanilla buttercream to a pastry bag fitted with a large star tip. Squeeze about 1/2 tablespoon of buttercream on top of each petit four. Sprinkle with pink sugar. Let petit fours dry for several hours or overnight. Use a metal spatula or bowl scraper to carefully loosen each petit four from wire rack. Place each one in a mini cupcake wrapper.
Makes 48 petit fours.
Information
Category

Desserts, Cake

Cuisine

North American