Philadelphia to Launch Massive Campaign For Cooking Creme
Cooking Creme Coming Soon to a Store Near You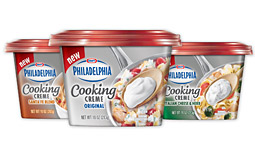 You may not have heard of cooking creme — yet. But according to Kraft's Philadelphia Cream Cheese, it's going to be the next big supermarket phenomenon. Early next year, Kraft Foods will launch Philadelphia Cooking Creme in stores, along with what's being called one of the largest ad campaigns in company history. "This is going to be one of the biggest launches that cheese and dairy has ever had," Philadelphia brand manager Adam Butler told Ad Age.
The refrigerated creme will come in four flavors: original, savory garlic, Santa Fe, and Italian herb and is designed to be used as a sauce for sautéing and pan-frying. A similar version is already available in Australian markets, where's it's being touted as having 60 percent less fat than regular cream.
Sounds like an interesting concept, but what's the point? Don't we already use cream cheese in everything from pasta to dips to cheesecake? Between cream cheese, neufchâtel, whipped cream, and sour cream, it seems to me the bases are all covered. What do you think of the concept? Would you buy it?