Long before Ad Hoc at Home [1] became a holiday pick [2] and bestselling cookbook, Thomas Keller [3]'s Ad Hoc restaurant [4] was a go-to Napa Valley spot for family-style comfort food. When the culinary deity first opened Ad Hoc in 2006, he intended for it to be a temporary café until he could nail down what his ultimate dining concept would be. But the restaurant, which served a set, four-course American meal every night, experienced such wild success that it became a permanent fixture [5]. Although Ad Hoc is known for its dinners, I've recently discovered that its Sunday brunch is a better value and more consistent in execution. It's truly worth the 80-minute drive from San Francisco. To see two of my favorite brunches, keep reading.
The Menu
Ad Hoc features a $49 four-course dinner. The $34 three-course brunch, which excludes a cheese plate, is an even better deal. At the beginning of the meal, diners are always presented with the menu, even though, with a single set menu, there's only one choice of items to order.
October Sunday Brunch
During the height of Fall, I stopped in for brunch with Arnold [6] and Steph [7], two food bloggers who are obsessive Ad Hoc enthusiasts. We started out with petite-sized lemon-blueberry pound cakes.
Citrus Yogurt
The miniature pound cakes were served alongside a bowl of citrus yogurt, which was garnished with lime zest for added pop and brightness.
Compressed Fruit
Chef Dave Cruz may keep things simple, but that doesn't mean the menu is boring. These pieces of pear, white pomegranate, and marinated pineapple had been vacuum-sealed and compacted under pressure, resulting in a denser, almost cooked texture, and a concentrated flavor. I was excited for my first foray into the world of compressed fruit.
Carrot Quick Bread
All the breads were placed in the middle of the table; I had to hustle to get a picture of this house-made carrot loaf before everyone proceeded to dive in!
Egg-in-the-Basket
Regardless of what you call it [8], this nostalgic egg and toast combination is irresistible. TK's version, with sliced Canadian bacon, gently poached eggs, and whole grain mustard soubise [9], was the most indulgent rendition I've ever had.
Fingerling Potatoes
I'm not sure if these fingerling potatoes, which where tender in the middle and crispy on the edges, were pan-fried or oven-roasted, but I do know they were delicious.
Baked Lady Apple
When it comes to desserts at the restaurant, the produce-driven ones are my favorite. A singular baked apple, topped with vanilla ice cream, drizzled with butterscotch and pecans, was no exception.
The Ad Hoc garden
I'm not sure it'd be possible to walk off the meal, but after a gut-busting brunch, we attempted to by taking a stroll in the restaurant's backyard gardens. The French Laundry, Keller's flagship restaurant, and its even larger garden grounds are less than a mile away, up the same street.
January Sunday Brunch
I chose to wait another season before returning to Ad Hoc for Sunday brunch. OK, who am I kidding — we went because my friend Conway red-alerted me to the fact that they were serving their signature buttermilk fried chicken, this time with a breakfast-friendly accompaniment of Belgian waffles. There was no way I was going to pass up this opportunity.
Winter Fruit Salad
The meal began with a Winter fruit salad of apples, pomegranates, and mandarin segments, served alongside yogurt and house-made granola.
Eyeing the Chicken and Waffles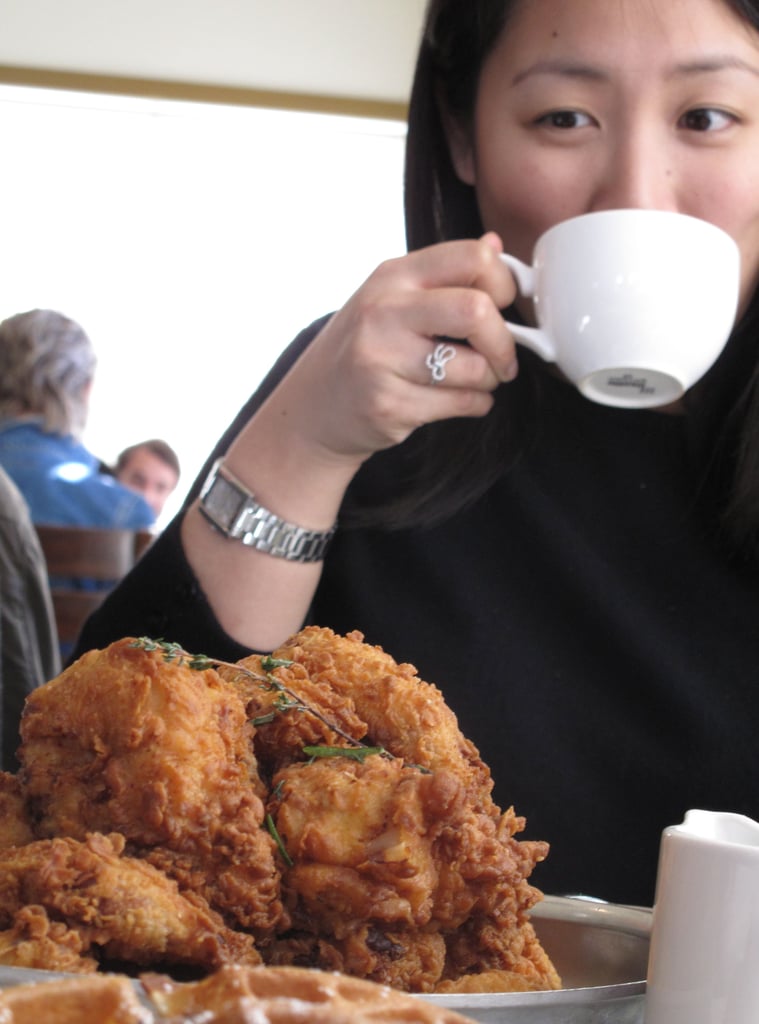 Someone caught a shot of me staring longingly at the buttermilk fried chicken and waffles. Can you blame me?
Buttermilk Fried Chicken and Sourdough Waffles
Wondering how this world-famous chicken is made? The restaurant gets local, organic, free-range, young hens fresh from Modesto, CA. They're never frozen. The chickens are brined for half a day, and dredged in a coating of all-purpose flour, cayenne pepper, and paprika. They're dipped into a buttermilk bath, dredged one extra time, deep-fried, and topped with thyme. Yes, that's how it's done. For this Sunday brunch, they were served alongside Belgian-style sourdough waffles, which were dusted with powdered sugar and drizzled with maple syrup.
Braised Collards and Roasted Peppers
An appropriately Southern side side: braised collard greens, and slow-roasted red and yellow sweet peppers.
Brownies and Blondies
Since there was obviously still room for dessert, we savored a dessert plate of a brownie, brown butter ice cream, and a contrasting blondie. We all preferred the decadent, fudgelike brownie — and couldn't wait to return in the next season.