Photos of Starbucks Coffee Roasting Plant Tour
Behind the Scenes at a Coffee Roasting Plant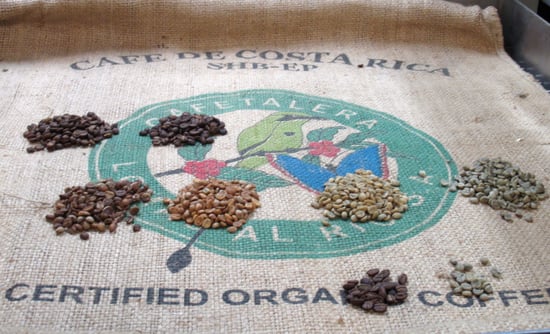 The original Pike Place Market store was just one of the trips I took while in Seattle for Starbucks Coffee College. I also paid a visit to the company's pilot plant, which roasts coffee in small batches to test new coffee concepts and revisit old ideas. Learn more about it when you keep reading.
Different factors determine a coffee's flavor, including a coffee cherry's growing conditions and climate and its processing method. The way in which a coffee bean has been roasted also controls flavor to a certain degree. Underroasted coffee will not possess enough taste, while overroasted coffee will have overpowering notes. As part of its research and development process, Starbucks frequently tests roasting times for coffee blends in a nearby pilot plant that's attached to the company's headquarters in Seattle's SoDo district. Many of the experiments that go on at the plant never hit consumer markets.
I was surprised by the intimate size of the plant, until I learned that it's only used for testing; all consumer coffee is roasted at one of the corporation's five plants (in Kent, WA; York, PA; Sandy Run, SC; Carson Valley, NV; or Amsterdam, The Netherlands). The batch roaster, shown here, can roast 80 to 100 pounds of green (unroasted) coffee; I witnessed the process with Guatemala Antigua beans, which took about 12 minutes at a temperature of roughly 450 degrees Fahrenheit.
Brian, our roaster, pulled beans out of the bath roaster to show us every several minutes, to demonstrate how the coffee's characteristics changed over time. Beans expanded in size but lost about 20 percent of their weight, turning from green and odorless to yellow to light brown, then finally a dark chocolate color with a sweet, toasted aroma.The beans require 24 to 48 hours of resting time, as they continue to develop their flavor after roasting.
Have you ever seen coffee beans being roasted?