Pickled Pear Recipe
Preserve Underripe Pears by Pickling Them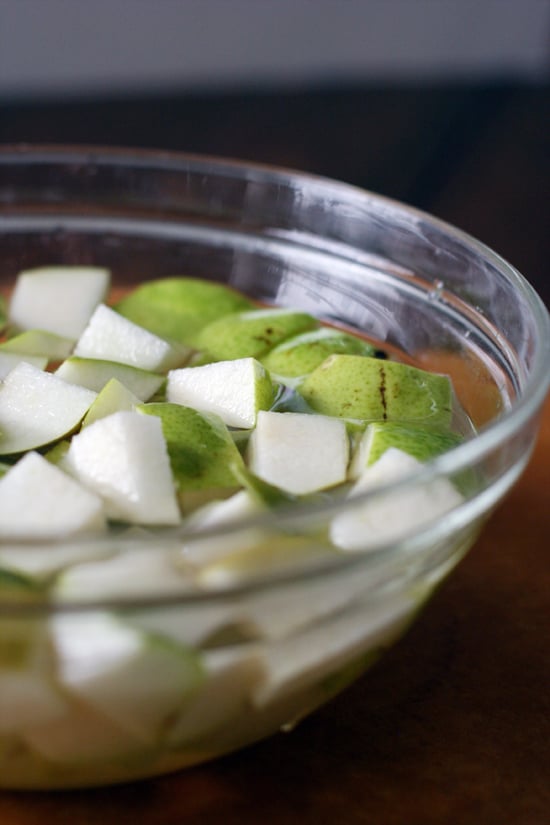 Every week, our office receives a CSA box full of seasonal fruit. Recently, it contained a ton of unripe pears, so I knew I had to try out Roy Choi's pickled pear recipe for myself.
The simple pickling brine combines equal parts water, sugar, and rice vinegar and then salt to taste. Weighing down the contents with another bowl prevents oxidation and helps speed up the fermenting process.
These pickled pears will awaken your palate. They retain their crisp, crunchy texture while soaking up the rice vinegar and sugar. Adding a little salt on the outside rounds out the sharp vinegar flavor. Eat them as you would other pickles: a few nested on the side of an egg breakfast, sliced thin and placed inside a sandwich for lunch, or alongside an Asian stir-fry.
See the recipe for pickled pears.
Ingredients
3/4 cup water
3/4 cup sugar
3/4 cup unseasoned rice vinegar
Kosher salt to taste
3 unripe pears, cores removed and large diced
Maldon sea salt or fleur de sel, for garnish
Directions
To make pickling brine, combine water and sugar in a saucepan. Cook over medium-high heat until mixture comes to a boil and sugar dissolves. Remove from stove and stir in rice vinegar. Salt to taste, then cool to room temperature.
Transfer brine to another bowl, add pear cubes to the cooled brine, and weigh down the mixture with a smaller bowl. Refrigerate for three days, then transfer to an airtight container or glass jar. When serving, garnish pickles with Maldon sea salt or fleur de sel.
Makes 1 quart pickles.
Information
Category

Other, Condiments/Sauces

Cuisine

Other Asian