Picnic Planning Tips
Plan a Picnic to Celebrate Spring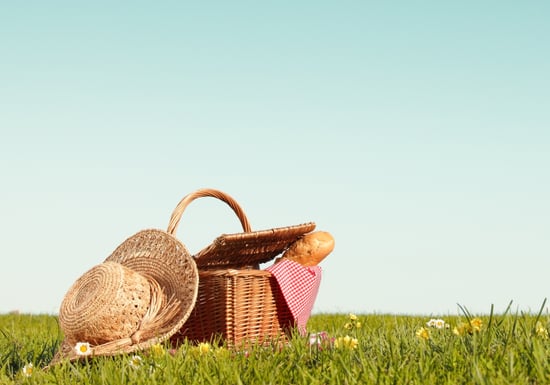 Warm Spring weather calls for alfresco dining, so it's the perfect time to bring out your favorite blanket and have a picnic. Whether it's a group affair or a romantic meal for two, a great picnic requires a gorgeous location and a tasty, convenient menu. Not sure what to pack? Here are a few of our favorite picnic picks.
Drinks
Simplicity is key, so if you plan to pack alcohol, stick to a bottle of wine, beer, or cocktails with three ingredients or less, like the appetite-inducing bicyclette. Add some charm to your meal with striped straws, or consider keeping your drinks in closed mason jars for a cute but practical choice.
Keep reading for more picnic ideas.
Appetizers
You can't go wrong with a delicious loaf of rustic bread. Pair it with a rich cheese, creamy herb butter, or your favorite dip. Choose appetizers that you can eat without a dish or utensils, like cheese biscuits, spicy marinated olives, or premade Greek salad bites.
Entrées
Sandwiches are an obvious choice, but skip the standard cold cuts and PBJ. Instead, opt for another sturdy but less-than-standard option, like a turkey cranberry wrap or the New Orleans classic, the muffuletta. You can also go for a tapas-style meal with several dishes, like potato salad, spring peas with mint, or pork and mango skewers.
Desserts
Steer clear of icy treats or cakes — go with sweets that won't melt or mash. Try nutella sandwich cookies, peanut butter brownies, or French macarons for a sugary dessert minus the mess.
Extras
Yes, the point of a picnic is to eat, but it's all about the experience, too. Don't forget to bring music and games — Frisbee, playing cards, and board games are great picks. The cherry on top? A charming, sturdy basket that you'll keep forever.
Do you have any picnic-packing tips? Share them in the comments!