With Christmas [1] and New Year's Eve [2] on the horizon, it's impossible not to think of the hors d'oeuvres and snacks that lend a certain je nais se quoi to festive holiday cocktail hours. Let's not forget, though, that these bites would taste wonderful any time of the year! To end 2010 on the right foot, begin with one of these 10 exceptional starters [3]: they were the best we had this year.
Pimento Cheese and Bacon Crostini
For a crowd-pleasing recipe that's flexible, inexpensive, and easy to halve or double, serve up pimento cheese and bacon crostini [4].
Hawaiian Ceviche With Pineapple Salsa
When you're in the mood to play beach bum but can't nab a tropical vacation, a coconut milk ceviche with pineapple salsa [5] is the next best thing.
Bacon-and-Tomato Guacamole
Bacon guacamole [6]: how come nobody thought of it earlier? This salty-smoky-creamy-crunchy combo simply cannot be resisted.
Greek Salad Bites
Everything — even a healthy, fast Greek salad bite [7] — tastes better when it's on a stick!
Rick Bayless's Salsas
Prepackaged salsa: it doesn't taste so special. Remedy that with a trio of complex salsas [8], courtesy of Rick Bayless. They'll leave your guests impressed — and their palates intrigued.
Sticky Sesame Chicken Wings
These chicken wings [9], which are coated in a hoisin-honey glaze with sesame seeds and scallions, are finger-licking good!
Katie Lee's Vidalia Onion Dip
Believe it or not, it's hard to track down a homemade onion dip with a rich caramelized onion flavor. Thankfully, Katie Lee's vidalia version [10] ultimately fit the bill.
Tiki Snack Mix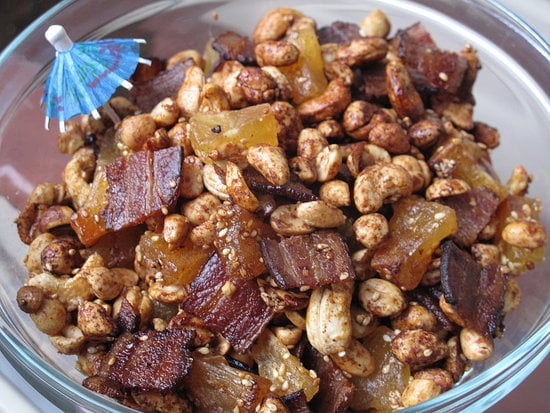 Tiki-themed snack mix [11] that harnesses the Polynesian power of candied pineapple and meaty bacon? Now that's brilliant!
Lamb Lollipops With Mint-Pistachio Pesto
Lollipops are just as tasty when they're savory. New to lamb? Try serving the meat as a tasty, two-bite finger food [12] that's topped with mint-pistachio pesto.
All Natural Chile con Queso
Don't love processed cheese? That doesn't mean you can't love queso. Skip the Velveeta and serve up a 100 percent natural version [13].