Pictures of Rick Bayless Making Mole at the 2010 Food & Wine Classic in Aspen, CO
Rick Bayless Works the Spice — and the Crowd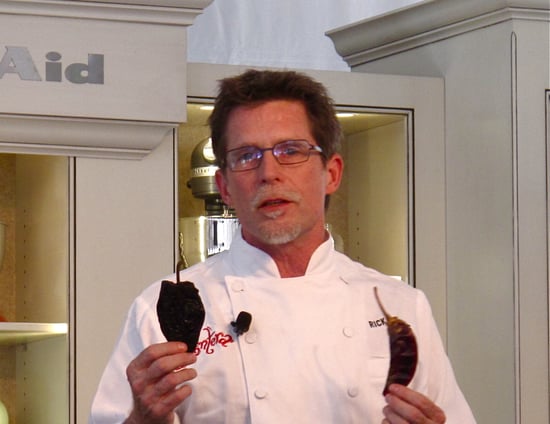 From Giada to Mario to Morimoto, there was no shortage of big food names at the Food & Wine Classic. But no one was more popular than regional Mexican expert Rick Bayless. When I attended his seminar one afternoon, I sat shoulder to shoulder with literally hundreds of attendees crowded under the cooking tent just to see the Top Chef Master in action. The affable TV host captivated the crowd by preparing ayocotes, or runner beans, in coloradito, a Oaxacan chocolate sauce. He explained that the Mexican region of Oaxaca is known as the "land of the seven molés" for its many indigenous sauces made by blending chiles with nuts or seeds. As he worked on the dish, Bayless also offered a primer on dried chiles. Learn how to better utilize them when you read on.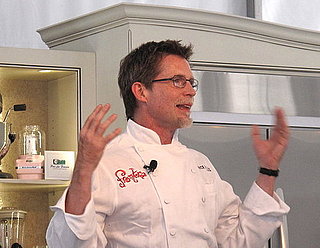 "Get over your fear of dried chiles," Rick urged the crowd. When buying dehydrated chiles, the Chicago chef suggested paying attention to details. Because chiles are a fruit, they should smell like dried fruit, still bear their stems, and be flexible rather than brittle in texture.
Ancho and guajillo chiles are a good starting point. Rick explained the difference between ancho chiles (which have a heart shape, wrinkled skin, spicy prune-like scent, and a sweet flavor) and guajillo chiles (which have a smooth, tough skin, very little flesh, and a tangy flavor). Because the two are so contrasting, they pair ideally with one another.
To rehydrate dried chiles, cover them with hot water and allow them to soak for 20 to 30 minutes. Don't be surprised when they lighten in appearance and begin to give off a smoky aroma.
Because molé dishes possess a lot of dried fruit characteristics, enjoy them with wines that will draw out these flavors. For instance, an herbal and dry Muscatel goes well with bright, lemony green molés.
What do you know about cooking with dried chiles?