Pimm's Cup Recipe
Come Party With Me: Labor Day — Drinks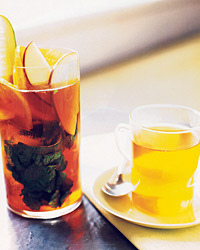 Although Labor Day is an American holiday, I'm suggesting that you serve a classic British cocktail, Pimm's Cup, at your barbecue. Why? Because it's a refreshing and wonderful drink! It's fruity, gingery, and not too strong. This punch-like libation requires a special spirit, Pimm's No. 1, that's readily available at most liquor stores. The recipe serves four, but I would plan on doubling it. A Pimm's Cup is so delicious that you and your guests will be craving seconds. Look at a recipe after the break.


Ingredients
1 1/2 cups Pimm's No. 1
1 navel orange, cut crosswise into thin slices
1 lemon, cut crosswise into thin slices
3/4 cup firmly packed mint leaves and tender stems
1 1/2 cups cold ginger ale or lemon lime soda
1 cucumber, cut lengthwise into 8 wedges
About 3 cups ice
1 apple, quartered, cored, and cut into thin slices
Directions
In a large pitcher, combine the Pimm's, the orange and lemon slices, and the mint. Chill for about 10 minutes. Stir in the ginger ale.
Put two cucumber wedges, standing on end, into each of four 1-pint glasses. Fill halfway with ice.
Pour in the Pimm's mixture. Push the mint down into the drinks and divide the orange, lemon, and apple slices among the drinks.
Serves 4.
Information
Category

Drinks, Punch

Cuisine

English/Scottish/Irish