Pink Lemonade Bars Recipe
A Strawberry Spin on Classic Lemon Bars
Summer never tasted as sweet as these sublimely tart pink lemonade bars. They're perfect for bake sales, end of Summer barbecues, dinner parties . . . really any event that's begging for a sweet treat. A strawberry spin on classic lemon bars, they're super simple to make and so tasty that you might not want to share them with anyone. On Brandi: Laila Jayde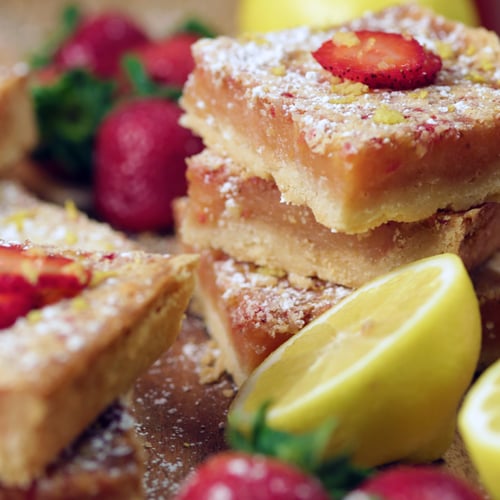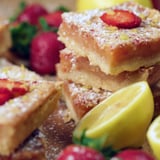 Ingredients
For the crust:
1/2 pound unsalted butter, room temperature
1/2 cup granulated sugar
2 cups all-purpose flour
1/8 teaspoon kosher salt
For the filling:
6 extralarge eggs, room temperature
3 cups granulated sugar
2 tablespoons finely grated lemon zest, plus more for garnish
1/2 cup freshly squeezed lemon juice
1/2 cup strawberry purée
1 cup all-purpose flour
Powdered sugar, for dusting
Sliced strawberries, for garnish
Directions
Preheat oven to 350ºF.
To make the crust: Cream together the butter and sugar in a stand mixer fitted with a paddle attachment. Add flour and salt and mix on low until just combined.
Turn the dough out onto a floured surface and gently knead into the shape of a ball. Transfer the dough ball to a quarter-sheet pan; press it out evenly to the edges of the pan. Chill in the refrigerator for at least half an hour before baking. Bake for 15 to 18 minutes, or until the crust is very lightly browned. Let cool.
To make the filling: In a large mixing bowl, whisk together eggs, sugar, lemon zest, lemon juice, and strawberry purée. Add flour and continue mixing until smooth. Pour filling into the cooled crust and bake for 30 to 33 minutes, or until the filling is set. Let cool completely.
Cut into squares and garnish with powdered sugar, sliced strawberries, and lemon zest.
Information
Category

Desserts, Pies/Tarts

Yield

Serves 6-8