Pink and Purple Ombré Noodles
Pink and Purple Ombré Noodles
From POPSUGAR Food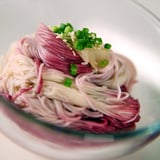 Ingredients
3 bundles somen noodles
3 cups beet juice or red wine
5 cups vegetable broth
1 tablespoon garlic, finely minced
1/2 cup ginger, finely minced
1 1/2 teaspoons soy sauce
3/4 teaspoon rice vinegar
1/2 cup green and white scallions, thinly cut
2 tablespoons white sesame seeds
1/4 cup pickled ginger
Directions
Cook somen noodles in boiling water for one to two minutes until done, or according to package directions. Drain and pat dry.
Dip one end of the noodles into a bowl filled with beet juice (or red wine), and let sit for five minutes.
In a saucepan over medium heat, mix vegetable broth, garlic, ginger, soy sauce, and rice vinegar. Bring to a simmer for two minutes, and then remove from heat.
Divide noodles among six bowls, ladling each bowl with half a cup of broth. Garnish each serving with scallions, sesame seeds, and pickled ginger.
Information
Category

Pasta, Main Dishes

Cuisine

Japanese

Yield

6 servings