Pocket Thins Pita From Arnold/Oroweat Review
Taste Test: Arnold Pita Thins
I am not usually a big fan of supermarket pita. The store-bought pockets usually pale in comparison to the pillowy, perfectly toasted pita you get at Middle Eastern eateries. That said, the soon-to-be-released Pocket Thins from Arnold (aka Oroweat, if you live on the West Coast) are the best packaged pita I've ever tasted.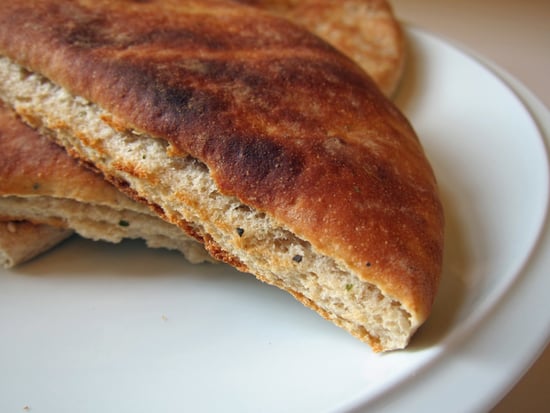 Just released in the Northeast and Midwest and rolling out nationwide on Jan. 9, Pocket Thins come in Italian Herb and Eight-Grain flavors — emphasis on the word "flavor." Though the herb variety is more aggressively seasoned, both thins are seriously thick with flavor, but not too much that it will overwhelm sandwich fillings.
More thoughts and photos after the break.
With about 100 calories per pocket (that's one half of a round pita), these are a healthy but not too healthy option for enclosing your sammie faves. Though I usually veer toward multigrain bread, I loved how the herb flavor complemented my spinach, ham, and avocado filling.
Beyond sandwiches, these pita are also tasty toasted and served with hummus. One warning: toasting the pocket before you open it makes it difficult to stuff it with fillings later, so be sure to open your pocket before toasting it, if you actually want to use it as a pocket.
Do you buy supermarket pita? Will you give these a taste?