Popcorn and Wine Pairing Tips
To Make Wine Explode, Pair It With Popcorn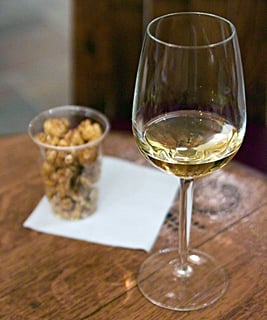 Popcorn may not be the first food pairing that comes to mind when drinking wine, but Master Sommelier Andrea Robinson thinks it's time to change that.
"Popcorn is great with wine," said Robinson, who discovered the pairing when she was first starting out at New York's International Wine Center.
"I went into the kitchen to microwave some popcorn, and there was a free bottle of Lindemans Bin 65 Chardonnay. It was my first 'Aha!' wine pairing moment." Here are some of Robinson's favorite wine-and-popcorn flavor combinations.


Thyme popcorn or pesto popcorn with Napa Cabernet. Pesto will bring out the Cabernet's cedar notes, and is a great meat-free bridge to big red wines.
Wasabi popcorn + Riesling. The wine counterbalances wasabi's heat.
Paprika or hickory with Pinot Noir. Smoky elements complement the spice notes in a Pinot.
Aged gouda popcorn with barrel-fermented Chardonnay. "Eating aged gouda with barrel-fermented Chardonnay is like eating unsweetened crème brûlée!"
Have you ever tried eating popcorn alongside a glass of vino?
Source: Flickr User Mike Miley