Popular Pinterest Recipes 2013
Count Down to Our Most Pinned Recipes of 2013
This time of year is exciting for so many reasons, and looking back on our own popular recipes that you enjoyed is a very important one. This time around, we're counting down all the delicious dishes and drinks you shared on Pinterest throughout 2013. From simple meals to more involved concoctions, you loved it all! Check 'em out, and dont forget to follow us for more pin-worthy recipes all year long!
15. The Perfect Chocolate Chip Cookie Cake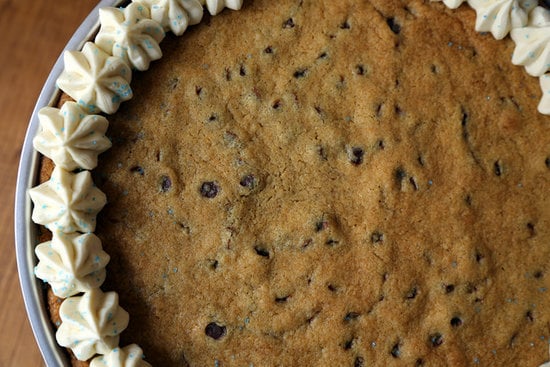 You know the perfect chocolate chip cookie cake when you see it, and that's just what you'll get with this tried-and-true recipe. The secret here? A homemade brown sugar made with pure cane sugar and molasses that yields a melt-in-your-mouth treat. Just a warning: you'll crave it for weeks to come.
14. The Easiest Homemade Cronut
No one could resist this year's Cronut craze, so it's only natural that the hybrid took off on Pinterest. You can still make our take on the Cronut — aka the easiest recipe out there. Use vanilla pudding or fruit jellies as filling, and enjoy!
13. Satisfying Spiced Carrot Soup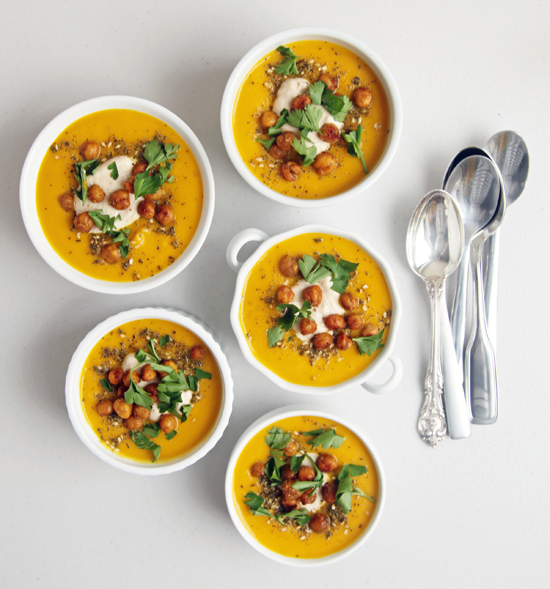 Have you ever seen prettier carrot soup? We think not. Looks aside, this Middle Eastern spiced recipe with roasted chickpeas and tahini is all kinds of yummy. Creamy without using cream and topped with incredible garnishes, it's the sort of soup that deserves all your attention.
12. Olive Garden Lasagna Classico
What's the ultimate comfort food that's packed with layers of meat sauce, cheese, and tender noodles? Olive Garden's classic lasagna, that's what. Try out one of the restaurant's bestselling menu items. We promise the gooey, gratifying dish is surprisingly simple to make at home.
11. Baked Goat Cheese Appetizer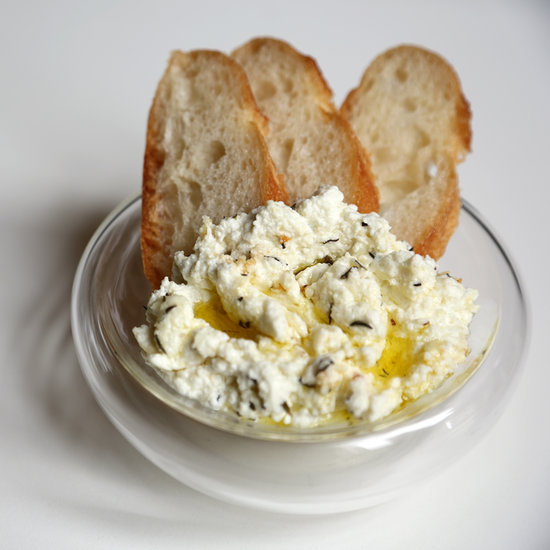 If we're going to be totally honest, we feel silly calling this baked goat cheese recipe a recipe because it's that easy. Essentially, all you need to do is cook the cheese in an oven-safe dish, serve with a fresh baguette or crostini, and ta-da! You've got the easiest delicious appetizer under the sun.
See the top 10 recipes after the break!
10. Homemade Ramen Burger
Just like the Cronut, the over-the-top Ramen Burger took off like whoa this past year. But while legions of fans waited in line to try this burger nestled between two eggy ramen buns, we taught you how to make the dish at home. Give it a try today; your friends will still be just as impressed.
9. Cheesy Kale Chips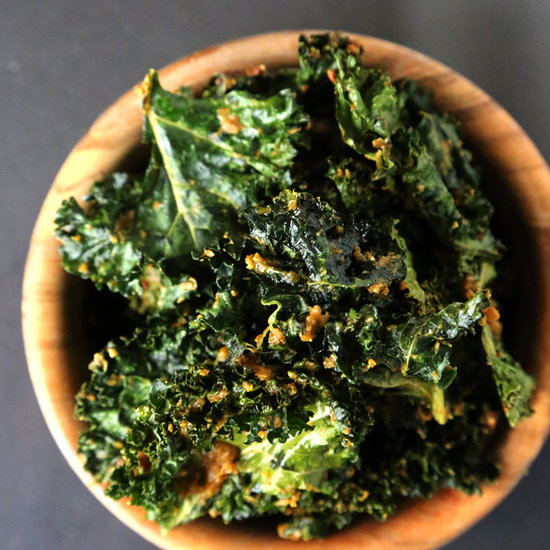 Move over, Cheetos. The secret to this crave-worthy kale snack is a vegan cheese sauce made with cashews and nutritional yeast. Drizzle it over chips for a result that tastes remarkably umami and salty. Just try not to eat them all at once.
8. Benihana Fried Rice
Just because you don't own Benihana's classic flat grill top doesn't mean you can't bring a taste of the restaurant into your home. Earlier this year, Benihana chef Oscar Briseno showed us how to master the chain's chicken fried rice (and how to perform some signature tricks, of course). It's a dish that's delicious all year long, so get to it!
7. Sesame Carrot Salad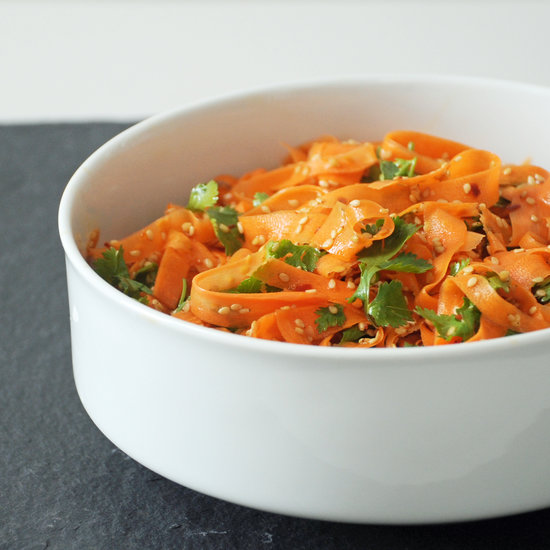 There are so many reasons to love The New Persian Kitchen's sesame carrot salad. One, it's deliciously vinegary and bright with a nutty note from toasted sesame seeds. Two, it just looks pretty. And three, it takes no time to prepare. What else could you want?
6. Sun-Dried Tomato Pasta Salad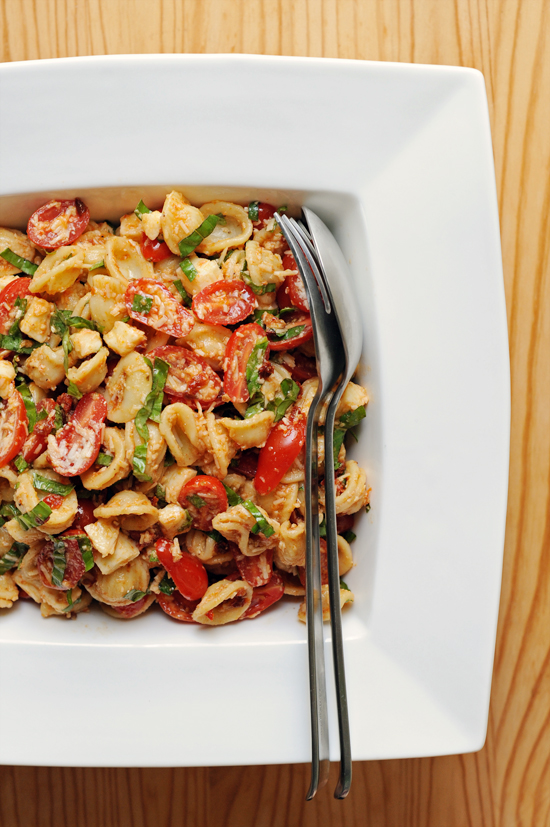 Pasta salad is always a fail-proof recipe, but what helps this version stand out from the rest is a sun-dried tomato dressing. Made from a mixture of tomatoes, capers, garlic, olive oil, and red wine vinegar, it makes for one satisfying dish that only tastes better the next day.
5. Lavender Collins Cocktail
The first cocktail on our list, this lavender vodka concoction will steal the show, even if you're sipping it solo. With a swirl of lavender simple syrup and a dash of Page's Parfait Amour, you get a well-balanced, refreshing (and stunning!) drink that'll transport you to sunnier days.
4. Chicken Lo Mein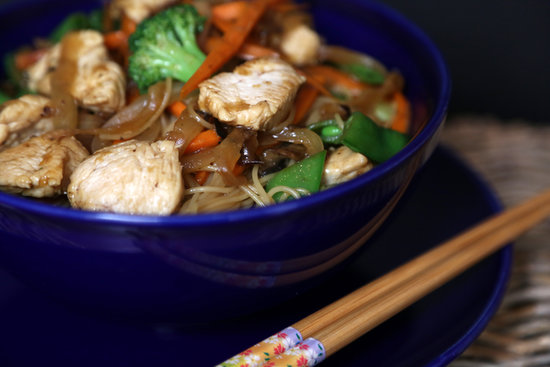 While we're all for Chinese take-out, but this is an instance where you should never stray from the homemade recipe. Try your hand at chicken lo mein, and you'll be satisfied beyond belief. Each noodle is coated in plenty of ginger and soy sauce, but the veggies and chicken pieces give it the perfect balance.
3. Homemade Kahlúa Coffee Liqueur
Psst, want in on a secret? You can make your own Kahlúa coffee liqueur at home. Sure, it takes three weeks for the coffee beans to infuse with the alcohol, but the end product is so worth it. Plan ahead, and once you make the rich syrup-like liquid yourself, you'll never reach for the bottled stuff again.
2. Pecan Pie Cookies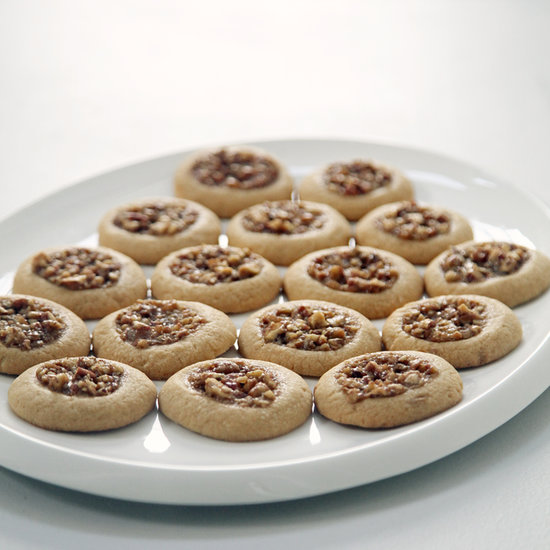 If you're like us, you love pecan pie, but don't always have the patience or the time to make the dessert from scratch. That's where these genius nutty thumbprint cookies step in to save the day. They're just as memorable but oh so easy to make, exactly how we like it.
1. Redhead in Bed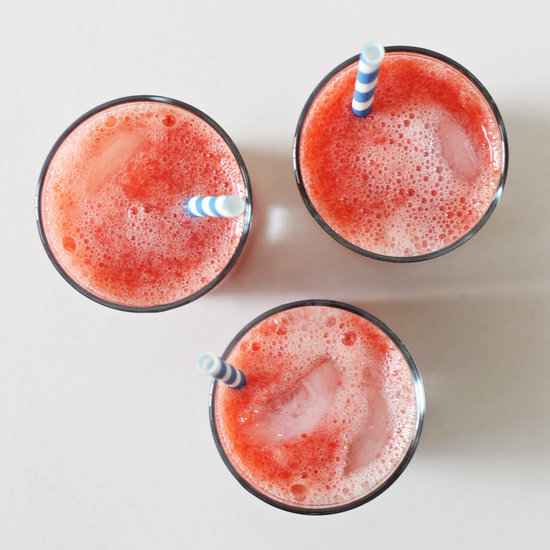 With more than 150,000 pins to its name, its no secret that this redhead in bed cocktail is so popular. The fruity strawberry concoction is light, refreshing, and as easy to make as it is to drink. We'll cheers to that any day!