Pork Carnitas Recipe
Bring the Taco Truck to You With Homemade Pork Carnitas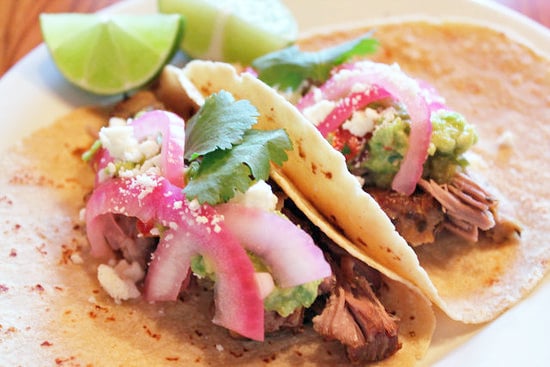 June may be all about grilling on YumSugar, but there's one noncharred dish that deserves a place next to its blackened counterparts: pork carnitas. While often deep-fried or oven-braised, this taco-truck staple is just as comfortable on its own as it is served beside carne asada and chorizo.
While preparations vary, my favorite incarnation of carnitas is fork-tender in the middle but encircled in a flavorful crust — a result of the aforementioned deep-frying technique or of the meat frying in its own rendered fat. Not the healthiest of taco options, but definitely worth the extra calories!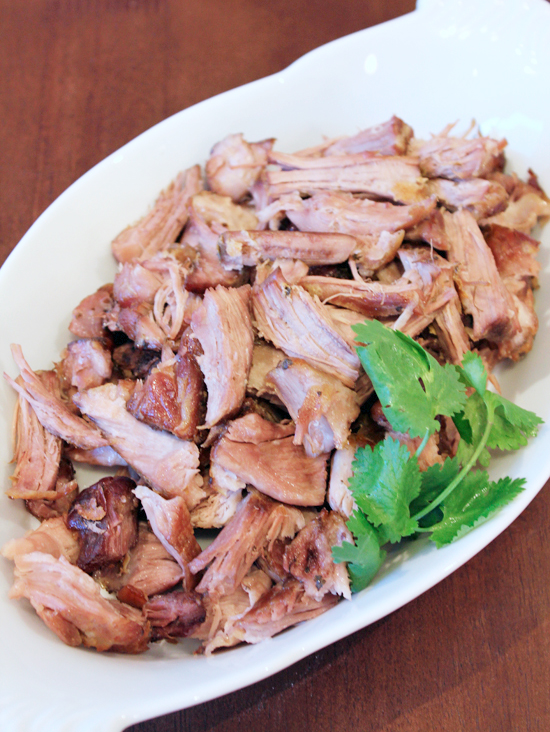 This recipe oven-braises the meat with fragrant seasonings before cooking off the liquid and basting the pork in the fat that remains at the bottom of the pan. Toppings are limited to your imagination, but I love the fresh, tangy flavor of salsa verde alongside sweet pickled red onions and salty cotija cheese. Serve up this delicious meat at your next taco bar gathering: it's sure to be a crowd favorite! Keep reading for this simple recipe.
Pork Carnitas
From Sara Yoo, YumSugar
Ingredients
2 pounds pork butt (shoulder), cut into 2-inch slices
1/2 orange
2 teaspoons Mexican oregano (or to taste)
Coarse salt
Directions
Preheat the oven to 375ºF. Season the pork on all sides with coarse salt and lay in a single layer in a baking dish that just fits the meat.
Squeeze the orange over the meat, and sprinkle with the oregano. Wedge the spent orange rind in between the pieces of pork. Pour about 1/4 cup water around the meat, cover the dish tightly with aluminum foil, and place in the oven for about 1 hour.
Uncover the dish, raise the heat to 450ºF. Cook for another 20 minutes or so until the liquid evaporates. When you hear the meat begin to sizzle in the rendered fat, turn the pork and baste it in the juices and fat. Continue to turn and baste every few minutes until all sides are golden and crispy, about 15 minutes more.
Remove from the oven and transfer the meat to a plate, discarding the orange rind. When the meat is cool enough to touch, shred it coarsely.
Serve with tortillas and your choice of toppings.
Serves 4-6.
Information
Category

Main Dishes, Pork

Cuisine

Mexican