Pork Tenderloin With Blackberry Jalapeno Glaze
Berry Tempting: Pork Tenderloin With Spicy Blackberry Glaze
You already know I have been testing out savory berry recipes — like pulled pork with blackberries — all Summer long, and I've come to the conclusion that you can't go wrong with pork and a fruity sauce. They seem to nearly always be a match made in heaven. I couldn't resist trying another simple, seasonal BBQ recipe of pork tenderloin with a spicy blackberry glaze.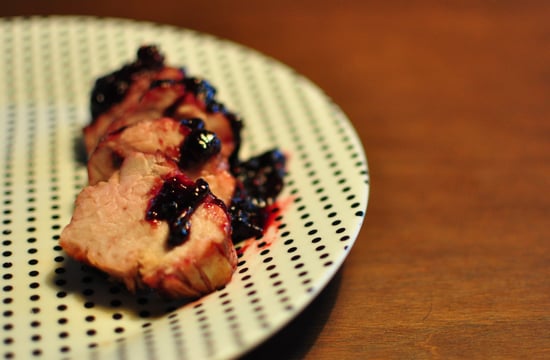 Although the original recipe called for blackberry jam, I decided to make a quick jam with fresh blackberries and used this as the base of the sauce. When I tasted the finished sauce alone (as any good cook would do), I thought it was a touch too vinegary, but once paired with the pork, it was simply perfect. If you are tired of hamburgers and hot dogs on the grill, spice it up with this recipe.
Blackberry Jalapeno Glazed Pork Tenderloin
Adapted from Guy Fieri
Ingredients
1/4 cup kosher salt, plus 1 teaspoon
3 cups water, warm
1/4 cup red wine vinegar
1/4 teaspoon red pepper flakes
2 tablespoons brown sugar
1 cup ice cubes
2 pounds pork tenderloin, silver skin removed
1 tablespoon olive oil
1 teaspoon freshly cracked black pepper
Blackberry Jalapeno Glaze
1 tablespoon unsalted butter
1 to 2 roasted jalapenos, seeded, minced
1 tablespoon chopped garlic
1/2 cup seedless blackberry preserves or 1 cup of fresh blackberries and 1/2 cup sugar
1 cup wine, preferably Merlot
1/2 teaspoon cornstarch
1/4 cup red wine vinegar
Directions
In a gallon-sized resealable plastic bag, dissolve 1/4 cup of salt in the warm water. Add the vinegar, red pepper flakes, brown sugar, ice cubes and the pork. Brine for exactly 20 minutes. The pork becomes mealy if it's brined longer.
In a small saucepan, add blackberries and sugar if not using the preserves. Cook on high heat for 5 minutes, decrease the heat to low and simmer for another 15 minutes until the fresh preserves start to thicken.
In another skillet or saucepan over medium-high heat add the butter. Once melted, add the jalapenos and garlic and saute for 3 to 4 minutes.
Stir in the blackberry preserves and wine and combine well. Simmer until reduced by half. Add the cornstarch to the red wine vinegar in a small bowl and mix well. Pour the cornstarch mixture into the pan and cook for 5 to 6 minutes more. Keep the glaze warm until serving.
Remove the pork from the brine and pat dry. Rub the pork with the olive oil and season with 1 teaspoon salt and freshly cracked black pepper. Preheat a grill or grill pan to medium heat. Add the pork tenderloin and cook for 6 minutes on each side, browning evenly until the internal temperature registers 135 degrees F on an instant-read thermometer. At this point, evenly spread 1/4 cup of the glaze over the pork. Cook for an additional 4 to 5 minutes. Remove the pork from heat to a cutting board and keep it warm tented with aluminum foil.
Slice the pork, arrange the slices on a serving platter and serve with remaining warm glaze.
Serves 4-6.
Information
Category

Main Dishes, Pork

Cuisine

North American
Do you have a to die for barbecue recipe? Share it with the YumSugar Community! We might even feature it on the site.