 A few weeks ago, I headed out to celebrate a friend's birthday at the Rogue Ales Public House in San Francisco. While there, the group of us drank from the huge selection of beers and noshed on delicious Kobe-style burgers and onion rings. The celebration was a big success, and near the end, my friend's wife pulled out a plastic container full of mini brownie muffins. She stuck candles in a few of them and we all sang a round of Happy Birthday.
After the birthday boy had his first bite, everyone dug in and the next thing we knew we'd each devoured several mini muffins. They were moist, chocolatey, and paired perfectly with our beers. I asked Kerrie — the wife and baker extraordinaire — which recipe she used, and surprisingly she was able to take out a piece of paper and give it to me right then and there! If you want her recipe for delicious bites — the batch makes 72! — then just
.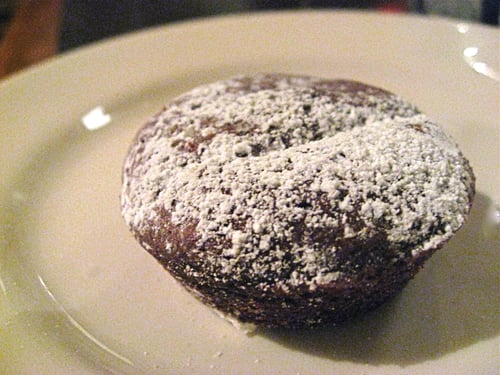 Ingredients
8 oz. unsweetened chocolate
4 sticks unsalted butter
1 3/4 cup flour
1/2 cup unsweetened cocoa
1/2 tsp. salt
3 1/2 cups sugar
8 eggs
powdered sugar to decorate
Directions
Preheat oven to 350°F
Grease mini muffin tins very well.
Melt chocolate and butter together in a sauce pan over very low heat.
Whisk together flour, cocoa, and salt in a medium bowl.
Remove chocolate pan from heat when all is melted. Add 3 1/2 cups of sugar, stirring until incorporated.
Add eggs, one at a time, whisking into chocolate.
Stir in flour mixture until just blended.
Pour mixture into muffin tins and bake on middle rack for 13 minutes.
Remove from oven and cool. Dust with powdered sugar.
Note: If the batter is too thick to pour, but it into a bag and pipe it into the cups!
Information
Category

Desserts, Chocolate