Potatoes au Gratin
Potatoes au Gratin Is Comfort Food at Its Finest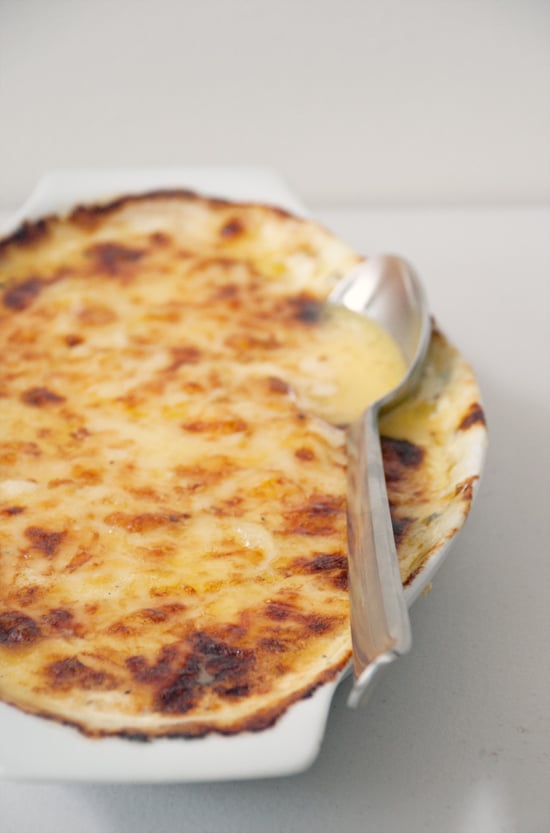 Those who are passionate about potatoes au gratin seem to fall into two camps: those who prepare the dish with cheese, and those who skip it, insisting that cream, when reduced properly, imbues the dish with umami-packed cheesy goodness. Now, I'd like to say that I fall into the latter purist camp, but let's be real: as delightful as cream is, it will never hold the same place in my heart as a hearty helping of tangy-twangy Gruyère cheese. This version reflects that.
Cooked to perfection at high heat, this très Francais side is comfort food, elevated. It rounds out near any manner of meals wonderfully. Or, if you're feeling truly indulgent, make it the star of a meal, supplemented by a crisp green salad — your secret's safe with me.
Add the recipe to your repertoire.
Potatoes au Gratin


Adapted from Food52
Notes
You may have leftover potato slices or milk; resist the urge to cram them into the gratin dish.
Ingredients
2 garlic cloves
1-1/2 cups milk
2 tablespoons unsalted butter, at room temperature
1-1/2 pounds yukon gold potatoes
8 ounces (about 2 cups) grated Gruyère
Kosher salt and freshly cracked black pepper
Directions
Preheat the oven to 425°F.
Peel and smash one of the garlic cloves and add it to a small saucepan with the milk. Heat until the milk has just started to bubble around the edges. Turn off the heat, and allow the garlic to steep while proceeding with the recipe.
Peel and slice in half the second garlic clove and rub it around the interior of a 9-by-2-inch oval gratin dish. Spread half of the softened butter around the interior of the gratin dish.
Peel the potatoes and cut into 1/8-inch-thick slices with a mandoline or very sharp knife. Lay the potatoes out on a clean kitchen towel to drain.
Layer about a third of the potatoes in the bottom of the baking dish, fanning them into concentric, overlapping circles. Season the potatoes with salt and pepper and sprinkle a third of the cheese over them. Repeat with one more layer of potatoes, salt, pepper, and cheese.
Fan out the top layer of potatoes as neatly as possible. Pour the milk through a fine-mesh strainer evenly over the top layer of potatoes, until it reaches just below the top layer of potatoes. Season with salt and pepper, and sprinkle with the remaining cheese (as with the previous layers). Dot with the remaining tablespoon of butter.
Bake the gratin for about 30 minutes, until it's browned and bubbly. Let the potatoes cool for 5 minutes before serving.
Serves 6.
Information
Category

Side Dishes, Potato

Cuisine

French