Pretzel Buns in Fast-Food Restaurants
Pretzel Sandwiches Take Shape at Fast-Food Chains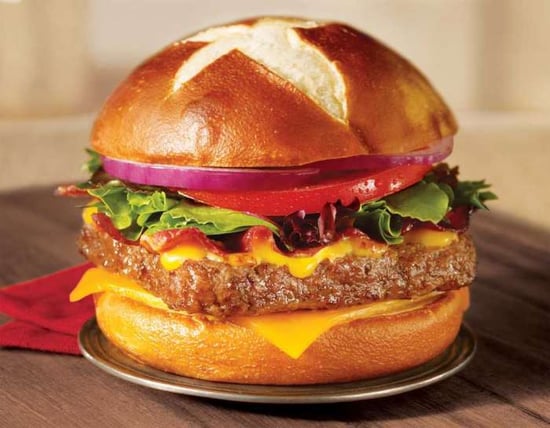 Move over, potato buns: pretzel buns are officially trending at fast food chains.
We've already spotted them at burger competitions and on Food Network shows — now pretzel buns are officially trending at fast food chains, which are offering pretzel hot dogs, hamburgers, and sandwiches of their own.
Keep reading to see which fast feeders are offering a take on the pretzel.
Wendy's was the first chain to spring for the pretzel, releasing a pretzel bacon cheeseburger with a sweet honey mustard sauce and applewood smoked bacon at the end of June. To generate more buzz, it transformed tweets of the burger into love songs, complete with an Elton John-esque piano man.
Sonic was next out the door with a pretzel hot dog bun. The limited-edition Cheesy Bacon Pretzel Dog topped with grilled onions will be available until Aug. 11. And the latest pretzel creation to join the party is Dunkin' Donuts, which announced a new Roast Beef Pretzel Roll Sandwich with white cheddar and dijon sauce, a step away from the hot dog/hamburger direction.
No doubt more fast food restaurants will follow suit. Our bets are on Subway; who wouldn't love foot-long pretzel bun stuffed with ham and cheddar à la Jeff Mauro?