Printable Wine Tasting Notes
Download Our Wine Tasting Worksheet!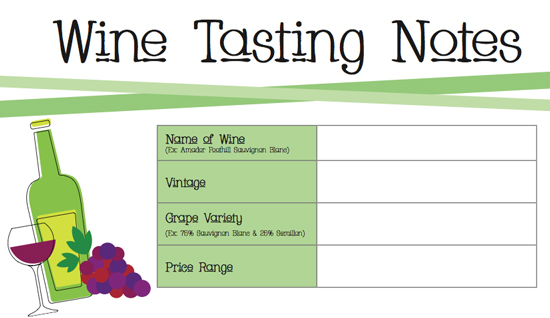 Love learning more about wine? Then make the most of tastings by downloading our printable wine tasting worksheet. Whether you're sampling new varietals at a wine club meeting, a wine bar tasting, or simply on the couch, use the sheet to jot down musings about memorable bottles so you can remember them in times to come. Keep on reading for a list of wine-related vocabulary, plus a link to the free tasting-notes worksheet.
Download YumSugar's Wine Tasting Notes
To help fill out the sheet, here's a list of wine tasting vocabulary:
Name of the wine: The name as it appears on the bottle. If you are performing a blind tasting simply label it Wine A or Wine #1.
Vintage: The year that grapes used to make the wine were harvested.
Variety: The type of grapes that were used to make the wine.
Price Range: How much the wine costs.
Aroma: The fragrance of the wine that is affected by the fermentation or aging process used to make the wine.
Body: The texture or weight of the wine in the mouth.
Taste: The flavors of the wine and how it tastes.
Finish: The final impression that remains in your mouth after you have swallowed the wine.
Happy tasting!