Product Review: Kraft Homestyle Deluxe Macaroni and Cheese
Taste Test: Kraft Homestyle Deluxe Macaroni and Cheese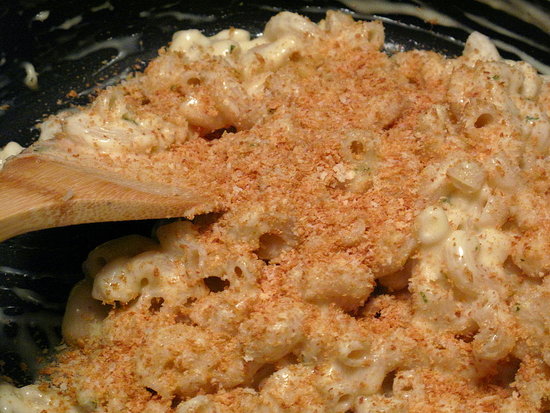 After checking out Kraft's Macaroni and Cheese Cheddar Explosion, I learned the brand had also released a new line of mac-and-cheese dinners called Homestyle Deluxe. I was curious to give the new product line — which has a (slightly) more elaborate cooking process — an earnest try. Compared to its hassle-free counterpart, was it worth the extra effort? Keep reading to find out.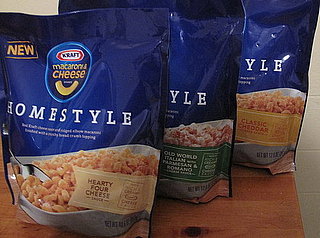 With its plastic pouch packaging, the Homestyle Deluxe line is easy to identify, and comes in three varieties: Classic Cheddar, Hearty Four Cheese, and Old World Italian. A cut of the pouch revealed dried macaroni, which is much wider and thicker than the blue box version; a "seasoning packet," which contains flour and occasional herbs; a cheese sauce; and a packet of breadcrumbs.
I boiled the pasta, then drained it, using the same pot to create a roux with butter and the seasoning packet. Then I added milk, the cheese sauce, and finally the pasta. I topped off the cheesy mess with a sprinkling of breadcrumbs. All in all, it took about 30 minutes to prepare the three flavors side by side.
Classic Cheddar: I thought this would be my favorite based on the name, but it was bland — it was reminiscent of Kraft's original blue box, but with less sodium and flavor.
Hearty Four Cheese: This mix of parmesan, asiago, colby, and cheddar cheeses was my favorite. It looked exactly like the Classic Cheddar, and tasted similar, but the parmesan and asiago cheeses lent a salty sharpness that the cheddar lacked.
Old World Italian: The alfredo-like appearance of this pasta, which is made with parmesan and romano cheese, didn't sit well with a fellow taster. Still, I thought it possessed a nice gooeyness from monterey jack cheese and a subtle garlic flavor.
If I had one primary gripe, it would be the breadcrumbs, which permeated the cheeses with a taste of old, stale cardboard. The packages also include instructions for a special topping, which involves finishing off the casserole with a layer of breadcrumbs and shredded Kraft cheddar, but since I didn't have that extra ingredient, I passed on the last step. Overall, I think the additional steps render a much more positive Kraft pasta experience. Have you tried Homestyle Deluxe? If so, I'd love to hear what you thought, too.