Prosciutto-Wrapped Turkey Roulade Recipe
Roulade Is a Creative and Quick Turkey Centerpiece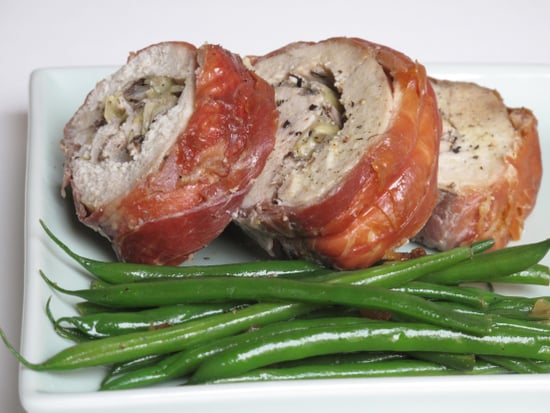 You may find this hard to believe, but my real Thanksgiving dinner — not the dry test runs that I prepare beforehand in my kitchen as a food editor, but the one I sit down to on Nov. 24 with my family — is incredibly humble. It's usually just the four of us, sitting around a table, eating a turkey and a few understated (but no less satisfying) sides. That's the Thanksgiving I grew up with, and it continues to be my family's holiday cooking style today: no fuss, no muss, and absolutely no pretensions.
I'm not deviating from the family tradition, so this year I'll be preparing an easy turkey roulade. Butterflied turkey breast is spread with a quick and dirty vegetable filling of shiitake mushrooms, artichokes, and onions, then it's rolled up, wrapped in prosciutto, baked until succulent and sliced into individual turkey pinwheels. It's hard to believe that all those elements take 15 minutes to prepare and just 90 minutes to cook, but it's true! Read ahead for an simple, speedy turkey breast recipe that's also elegant.
Prosciutto-Wrapped Turkey Roulade
From Susannah Chen
Ingredients
4 ounces fresh shiitake mushrooms, finely diced
1 tablespoon chopped sweet onion
4 ounces thinly-sliced prosciutto
1/2 a boneless, skin-on turkey breast (about 1-1/2 pounds)
1/3 cup unsalted butter, softened
1/2 teaspoon dried thyme
4 ounces artichoke hearts, drained and finely chopped
Directions
Preheat oven to 350ºF.
In a medium bowl, combine the artichokes, shiitake mushrooms, and onion; set aside. With skin side down, cut a lengthwise slit through the thickest portion of turkey to within 1/2 inch of bottom. Open turkey breast so it lies flat; cover with plastic wrap or wax paper, then pound to 3/4-inch thickness.
Remove and discard plastic; brush unsalted butter across turkey, then sprinkle evenly with dried thyme.
Spoon vegetable mixture evenly across buttered turkey breast, leaving a half-inch border uncovered on all sides. (Don't mound the vegetable mixture, or the turkey will be difficult to roll.)
Beginning at one end, roll the turkey like a jelly roll and tuck in any filling that tries to escape from the sides.
Carefully wrap prosciutto slices around the turkey roll, overlapping if necessary to cover the entire outer skin of the turkey. Tie the roast firmly with kitchen twine every 2 inches.
Place the roast on a foil-covered sheet pan. Bake, uncovered, until a meat thermometer reads 170ºF when inserted, about 1-1/4 to 1-1/2 hours. Cover and let stand 10 minutes before slicing.

Makes 8 1-1/2" thick slices (about 4 servings).
Information
Category

Poultry, Main Dishes

Cuisine

North American