Pumpkin Challah Bread Pudding Recipe | Video
Challah Pumpkin Bread Pudding Is a Thanksgivukkah Miracle
We all love classic bread pudding; it's cozy, comforting, and ideal for holiday dinners and brunches. Add to that the season's most beloved ingredient (pumpkin) and it only gets better. But wait, we're not done yet! We're paying homage to Thanksgivukkah by adding rich, eggy challah and tart cranberries to the mix. All in all, it's a great way to use up leftover challah from the holiday feast. Watch the video to see how it's made.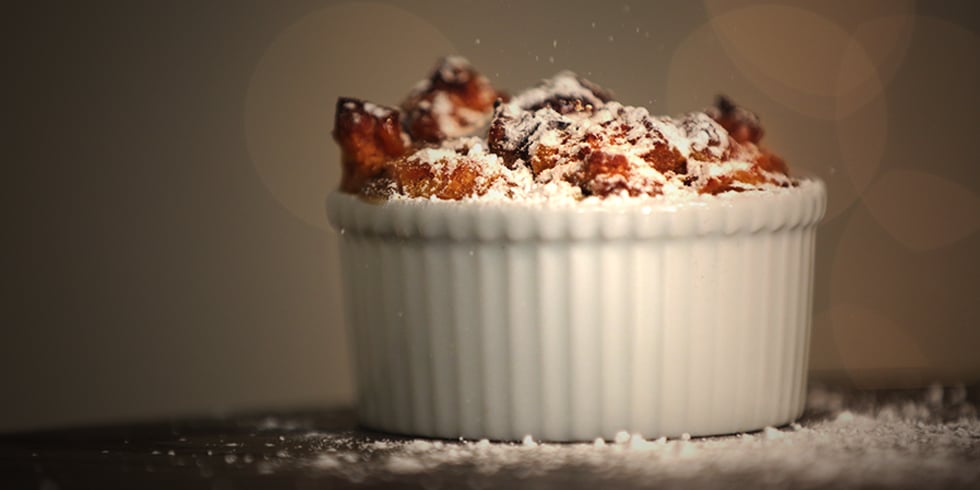 Pumpkin Challah Bread Pudding
From POPSUGAR Food
Ingredients
For the bread pudding:
2 cups half and half
1 15-ounce can pumpkin purée
1 cup plus 2 tablespoons packed golden brown sugar
2 large eggs
1 1/2 teaspoons pumpkin pie spice
1 1/2 teaspoons ground cinnamon
1 1/2 teaspoons vanilla extract or 1 vanilla bean
10 cups 1/2-inch cubes of challah bread (about 10 ounces)
1/2 cup dried cranberries
For the caramel sauce:
1 1/4 cups dark brown sugar, packed
1/2 cup unsalted butter or 1 stick
1/2 cup whipping cream
Powdered sugar
Directions
For the bread pudding: Preheat the oven to 350°F.
Whisk together the half and half, pumpkin, brown sugar, eggs, pumpkin pie spice, cinnamon, and vanilla in a large bowl. Fold in the cubed challah bread and dried cranberries.
Divide evenly between six ramekins.
Bake for about 40 minutes or until tester inserted into center comes out clean.
For the caramel sauce: Meanwhile, whisk together the brown sugar and butter in a heavy medium saucepan set over medium heat until butter melts. Whisk in cream, and stir until the sugar has completely dissolved and the sauce is smooth, about three minutes.
Drizzle the bread pudding with caramel sauce, and sprinkle with powdered sugar; serve warm.
Information
Category

Breakfast/Brunch, Casseroles

Cuisine

North American

Yield

Serves 6