Pumpkin Chess Pie Recipe
Come Party With Me: Southern Thanksgiving — Dessert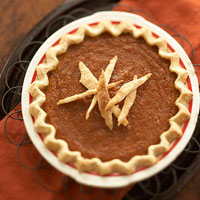 For a Southern-inspired Thanksgiving, don't just serve ordinary pumpkin pie for dessert, instead offer pumpkin chess pie. Although it has no relation to the game of chess, this luscious custard pie has origins in England and roots in the South. It normally consists of eggs, butter, and sugar, but this recipe stirs in pumpkin puree. The thing that makes a chess pie different from other custard pies is the addition of cornmeal to the batter. Classic chess pie can be somewhat sweet, so pair it with coffee or a crisp sparkling Moscato. Get the recipe when you read more.
Ingredients
Pastry for One Pie Crust
6 Tbsp. butter, softened
1-1/3 cups sugar
4 tsp. cornmeal
1 cup canned pumpkin
1/3 cup half-and-half or light cream
2 eggs, lightly beaten
1 tsp. vanilla
1/2 tsp. salt
1/2 tsp. ground cinnamon
1/4 tsp. ground nutmeg
1/4 tsp. ground ginger
1/4 tsp. ground cloves
Crispy Pastry Strips (optional, recipe below)
Directions
Prepare and roll out the pie dough. Line a 9-inch pie plate with pastry. Trim overhang to an even 1 inch all the way around. (Reserve pastry scraps for topper, if desired.) Tuck the crust under and flute the edges. Do not prick pastry.
Line pastry with a double thickness of foil; add pie weights, if you like. Bake in a 400-degree oven for 15 minutes to partially bake pastry shell. Remove foil and pie weights. Reduce oven temperature to 350 degrees F.
In a medium mixing bowl, beat butter with an electric mixer on medium to high speed for 30 seconds. Add sugar and cornmeal. Beat until combined, scraping the sides of the bowl occasionally. Add pumpkin, half-and-half, eggs, vanilla, salt, cinnamon, nutmeg, ginger and cloves. Beat just until combined.
Place the pastry-lined pie plate on the oven rack. Carefully pour the pumpkin mixture into the pastry shell. To prevent over-browning, cover the edge of the pie with foil.
Bake in a 350 degree F oven for 25 minutes. Remove foil. Bake for 20 to 25 minutes more or until a knife inserted near the center comes out clean. Cool on a wire rack.
Cover and store in the refrigerator within 2 hours. Top with Crispy Pastry Strips, if desired.
Serves 8.
Crispy Pastry Strips: Roll pastry scraps to 1/4-to 1/8-inch thickness. Cut into thin strips and place on a foil-lined baking sheet. Sprinkle with granulated sugar. Bake in a 450-degree oven for about 7 minutes or till lightly golden.
Information
Category

Desserts, Pies/Tarts

Cuisine

North American