Pumpkin Pecan Thanksgiving Dessert Recipe
Come Party With Me: Californian Thanksgiving — Dessert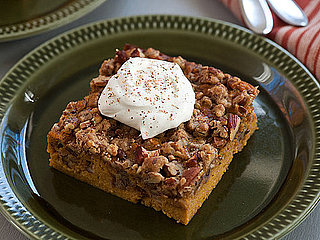 When I was trying to come up with a quintessential California dessert that embodies the spirit of Thanksgiving, I couldn't find anything that sounded delicious and exciting. Then I realized my guests would enjoy a dish that has the familiar flavors of the season but is packaged in a new way. I decided on this recipe by one of my favorite up-and-coming local celebrity chefs, Aida Mollenkamp.
It's like a crustless pumpkin pie with a classic pecan pie topping. A bourbon whipped cream is the perfect garnish to this decadent dessert. Look at the recipe here.
Ingredients
4 tablespoons (1/2 stick) unsalted butter, at room temperature, plus more for baking dish
1 (15-ounce) can pumpkin puree (not pie mix)
1 cup heavy cream
4 large eggs
1/2 cup granulated sugar
1/2 cup packed light brown sugar, divided
1 tablespoon bourbon, optional
1/2 teaspoon ground ginger
1/4 teaspoon ground nutmeg
1/2 teaspoon ground cinnamon, divided
1/8 teaspoon table salt
1 1/2 cups roughly chopped pecans
1/4 cup all-purpose flour
Bourbon Whipped Cream, recipe follows
Ice cream, optional
Directions
Heat the oven to 350 degrees F and arrange a rack in the middle. Coat an 8-by-8-inch baking dish with butter and set aside.
Combine the pumpkin, cream, eggs, sugar, 1/4 cup brown sugar, bourbon, if using, ginger, nutmeg, 1/4 teaspoon cinnamon, 1/8 teaspoon salt in a large bowl. Whisk until evenly combined and pour into the prepared baking dish.
Cut the butter into small pieces and add to a medium bowl. Stir in the pecans, flour, and the remaining 1/4 cup brown sugar, 1/4 teaspoon cinnamon, and 1/8 teaspoon salt and mix until it holds together somewhat but still crumbles.
Scatter the topping over the pumpkin mixture and bake until the edges are puffed and the filling is set in the center, about 55 to 60 minutes. Remove to a rack to cool to room temperature. Serve with the Bourbon Whipped Cream and/or ice cream.
Serves 8.


Bourbon Whipped Cream:
1 cup heavy cream
1 tablespoon confectioners' sugar
1 tablespoon bourbon
Add the heavy cream to a medium bowl. Beat the cream with a handheld mixer until thick and frothy.
Add the sugar and bourbon and beat until medium peaks form.
Information
Category

Other, Desserts

Cuisine

North American