Pumpkin Rice Pudding Recipe
Come Party With Me: Vegetarian Fall Feast — Dessert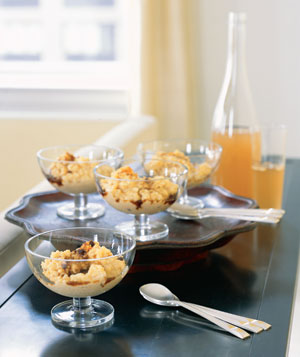 This weekend I'm inviting friends over for a Fall-themed vegetarian dinner. I'm serving a decadent meat-free meal that starts with a cheese plate and moves onto vegetarian potpies topped with homemade sweet potato biscuits. Naturally a menu like this calls for a stellar finish — preferably a dessert that can made mostly in advance. That's why I plan on trying this recipe for pumpkin rice pudding. It's seasonal and creamy, but not too heavy or rich. Also, rice pudding isn't something that I make often, thus it will feel more like a special occasion treat. To check out the simple recipe, keep reading.


Ingredients
2 cups short-grain or Arborio rice
6 cups milk
1 cup sugar
1/2 vanilla bean, split lengthwise
1 teaspoon grated orange zest
1/4 cup orange juice
1/4 teaspoon kosher salt
1 cup canned pumpkin
1/4 cup dark brown sugar (optional)
Directions
In a large saucepan, combine the rice, milk, sugar, vanilla bean, orange zest, orange juice, and salt. Heat to boiling over medium-high heat, stirring occasionally. Reduce heat to medium-low and cook, stirring occasionally, until the rice is tender and most (but not all) of the liquid is absorbed, 20 to 25 minutes. Remove from heat.
Discard the vanilla bean. Stir in the pumpkin. The recipe can be made ahead to this point.
Cover and refrigerate up to 2 days ahead. To rewarm, stir in an additional 1 1/2 cups milk and stir gently over medium-low heat. Serve warm, sprinkled with the brown sugar if desired.
Serves 8.
Information
Category

Desserts, Puddings/Mousse

Cuisine

North American