Pumpkin Soup Is a Perfect Thanksgiving Starter Last week my mother presented me with a beautiful little cooking pumpkin. Since the weather has been cooler, I knew I had to make a soothing soup. This easy recipe highlights the pure flavor of pumpkin. It takes time to make because the pumpkin has to be roasted before you can start the soup. It's worth it though: The finished result is luscious, warming, and delicious. To look at the recipe I used,
.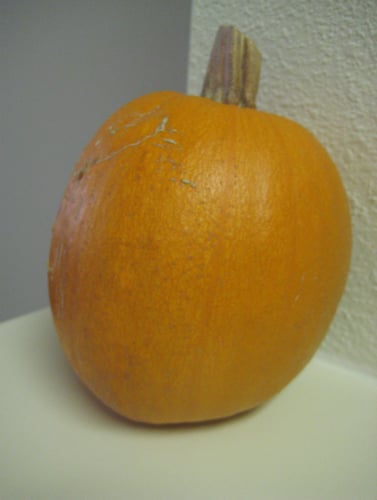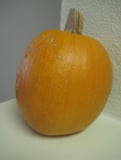 Ingredients
1 (2 pound) pumpkin, halved and seeds removed
1 teaspoon salt
1/4 plus a pinch freshly ground black pepper
3 tablespoons olive oil
2 teaspoons ground cinnamon
1 teaspoon ground allspice
3/4 cup chopped onion
1/2 cup chopped carrot
1/4 cup chopped celery
2 tablespoons minced ginger
1 tablespoon minced garlic
3 1/2 cups chicken stock
1/2 cup heavy cream
15 to 20 small sage leaves, fried
Directions
Preheat the oven to 400 degrees F.
Place the pumpkin cut side up on a parchment-lined baking sheet. Season with 1/2 teaspoon of the salt and 1/4 teaspoon of the pepper. Invert to the cut side down, and drizzle with 1 tablespoon of the olive oil. Place in the oven and roast until the skin is golden brown and the pumpkin is tender, 50 to 60 minutes. Remove from the oven and allow to cool. Once cool enough to handle, use a spoon to scoop the pumpkin flesh from its skin and set pumpkin aside until ready to use. Discard the skin.
Set a medium saucepan over medium-high heat. Add the remaining 2 tablespoons of olive oil and, when hot, add the cinnamon and allspice and cook, stirring constantly, for 1 minute. Add the onions, carrots, celery, ginger, and garlic to the pan and saute, stirring occasionally, until lightly caramelized, 3 to 4 minutes.
Add the chicken stock and reserved pumpkin to the pan and bring the stock to a boil. Reduce to a simmer and cook the soup for 15 to 20 minutes, or until the vegetables are soft.
Remove the soup from the heat and process with an immersion blender (*or in batches in a blender) until smooth.
Season with the remaining 1/2 teaspoon salt and pinch of pepper. Add the cream to the soup and stir to combine.
To serve, place 1 cup of the soup in each of 6 warmed soup bowls and garnish with a 2 or 3 fried sage leaves.
Serves 6.
*When blending hot liquids: Remove liquid from the heat and allow to cool for at least 5 minutes. Transfer liquid to a blender or food processor and fill it no more than halfway. If using a blender, release one corner of the lid. This prevents the vacuum effect that creates heat explosions. Place a towel over the top of the machine, pulse a few times then process on high speed until smooth.
Information
Category

Soups/Stews, Cream