Pumpkin Sufganiyot Recipe
Pumpkin Sufganiyot With Cranberry Jam Filling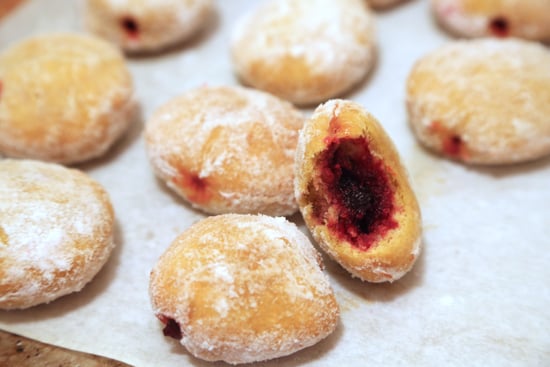 No Thanksgiving is complete without pumpkin and cranberry, and no Hanukkah is complete without sufganiyot, so here's a beautiful hybrid for you: pumpkin sufganiyot (jelly doughnuts) with a cranberry jam filling.
I won't lie to you; this recipe isn't easy or fast. But this is a labor of love that your family will definitely appreciate.
Don't deep-fry often? Most don't! But that's what makes it a special-occasion treat. As you fry, your house will smell like a doughnut factory.
I'm all for good kitchen hacks. I used the mouth of a mason jar to cut out the dough. And instead of using toothpicks to poke holes into the sides of the doughnuts, I found a handy plastic straw.
The doughnuts are rolled in granulated sugar and taste incredible even without the cranberry jam filling.
As for another hack, rather than use a pastry bag with a fancy pastry tip, fill a clear squeeze bottle with the jam. I find this method less messy and easier to clean up.
The sufganiyot are bound to go fast at the table; they have the seasonal pumpkin flavor along with a tart tanginess from the cranberry jam filling. What are you waiting for? Get frying!
Pumpkin Sufganiyot With Cranberry Jam Filling
From Anna Monette Roberts, POPSUGAR Food
Ingredients
3 1/2 cup flour
2 teaspoons salt
1/4 cup sugar, plus 1/2 cup more for dusting
1 tablespoon active dry yeast
2 eggs
1 1/2 cups pumpkin purée
1/4 cup warm water (110°F)
1/4 cup vegetable oil, plus more for greasing
5 cups vegetable oil, for frying
2 cups cranberry jam
Directions
In the bowl of a stand mixer fitted with a whisk attachment, mix flour, salt, sugar, and yeast on a low speed. Add eggs and pumpkin purée, and mix well. Add warm water and vegetable oil, and mix until a shaggy dough forms. Increase speed to medium, and then to medium-high until a smooth, starchy dough forms, about 5 minutes.
Coat a large mixing bowl with oil, and transfer sufganiyot dough to the oiled bowl. Cover with plastic wrap, and set in a warm place to rise until the dough doubles, about 1 to 1 1/2 hours.
On a lightly floured work surface, flip dough out and punch it down. Roll it out to a 1/4-inch thickness. Use a standard mason jar or a drinking glass to cut out doughnuts. Transfer doughnuts to a parchment-lined baking sheet, and keep covered with plastic wrap. Gather dough scraps, roll out again, and repeat the process until all the dough is used up. Allow doughnuts to rise again until puffy and 1/2-inch in thickness, about 15 to 30 minutes.
In a heavy-bottomed pot, heat vegetable oil over medium heat until a thermometer reads 350°F. Using a slotted spoon or a spatula, carefully transfer doughnuts 4 at a time into the oil. Fry until golden, flipping often, for about 1 1/2 minutes in total. Carefully remove doughnuts from oil, and transfer to a cooling rack lined with paper towels. Roll doughnuts in granulated sugar while warm. Repeat the same process with remaining doughnuts. Keep a watchful eye on the oil and make sure it always remains at 350°F.
Fill a pastry bag fitted with a round decorating tip or use a clear squeeze bottle. When doughnuts are cooled, use a plastic straw or a toothpick to make a hole on the side of each doughnut. Pipe (or squeeze) cranberry jam into each doughnut until the doughnut swells, about a teaspoon. Wipe the tip of the piping bag or squeeze bottle clean after each doughnut or else the cranberry jam will bleed out onto the doughnuts. Repeat with remaining doughnuts. Serve immediately.
Information
Category

Desserts, Doughnuts

Cuisine

Jewish

Yield

about 40 doughnuts